'GMA' lunch break: Daniel Holzman's classic tomato sauce recipe
As Seen on the 'GMA' Lunch Break Live Stream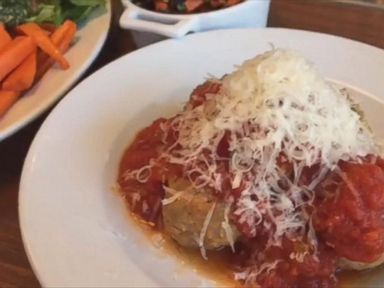 ABC News' Mara Schiavocampo cooks with chef Daniel Holzman at the Meatball Shop in New York City.
From the kitchen of Daniel Holzman
"GMA" caught up with chef Daniel Holzman at his restaurant, The Meatball Shop, in New York City. Here, Holzman shares The Meatball Shop's classic tomato sauce recipe, which is also available on the restaurant's website and at select shops.
Watch the "GMA" Lunch Break live stream on ABCNews.com/live and the GMA Facebook page daily at 12:30 p.m. ET.
Ingredients
1 yellow onion, small dice (about 1 ½ cups)
1 bay leaf (fresh or dry)
1 sprig fresh oregano (or ½ tsp. dry)
2 cloves garlic, peeled and roughly chopped
2 tbsp. tomato paste
¼ cup olive oil
2 tsp. Salt
2 28 ounce cans of canned tomatoes, chopped (preferably San Marzano)
Cooking Directions
1. Cook the onions, with the olive oil, oregano, bay, garlic and salt over a medium heat in a large pot (12 qt) stirring constantly until soft and translucent (about 15 minutes).
2. Add the tomato paste and continue cooking for five minutes.
3. Add the canned tomatoes and stir constantly until the sauce begins to boil.
4. Continue cooking for 1 hour stirring ever four or five minutes such that the sauce does not burn.
5. Season with extra salt to taste.
Recipe courtesy Daniel Holzman
Recipe Summary
Main Ingredients: onion, bay leaf, oregano, tomato paste, tomatoes, olive oil
Course: Dinner, Lunch