Clinton and Carla's Beef and Corn Tamales with Tequila Crema
Spicy and Flavorful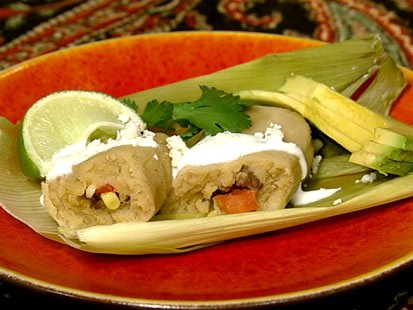 From the kitchen of Clinton Kelly and Carla Hall
|
Ingredients
For the masa mixture:
1/2 cup shortening
2 cups masa harisa
salt, to taste
1 cup chicken broth
Filling:
1/2 lb ground beef
3 ears of corn, husked and cut off the cob
1 12 oz can diced tomatoes
1 onion, small dice
1 jalapeno, seeded, ribbed, small dice
2 garlic cloves, minced
Tequila lime crema:
8 oz crema or creme fraiche
zest of 2 limes
1 tsp tequila
Garnishes:
avocado
cilantro
lime wedges
cotija cheese
Cooking Directions
For the Masa Mixture: Using a hand mixer in a large bowl, whip shortening and salt together. Alternate adding the masa harisa and the chicken broth until smooth and full combined, with the consistency of a soft dough.
For the Filling: In a large sauté pan, add the olive oil and add the ground beef and season with salt and pepper. Brown the ground beef, about 5-8 minutes. Remove the meat from pan along with any excess fat and add all of the vegetables and canned tomatoes. Season generously and sauté for about 3-5 minutes. Add beef back to pan and stir to combine.
Take 2 tablespoons of masa mixture, press into palm of hand, to flatten. Place a tablespoon of beef mixture into center and fold masa paste around to cover and seal. Place inside two overlapping corn husks, roll up to cover and fold in edges to cover tamale completely.
If you do not have a steamer, add water to pasta pot, enough to boil but not touching the bottom of the pasta insert.
Place tamales in steamer, seam side down and steam for 30 minutes.
For the Tequila Lime Crema: Combine ingredients in a small bowl and mix together until thoroughly blended.
To Garnish: Top tamales with some Tequila Lime Crema and your favorite toppings.
Recipe courtesy The Chew.
Other Recipes That You Might Like