Clinton Kelly's Chicken Club Sandwich
A Gourmet Lunch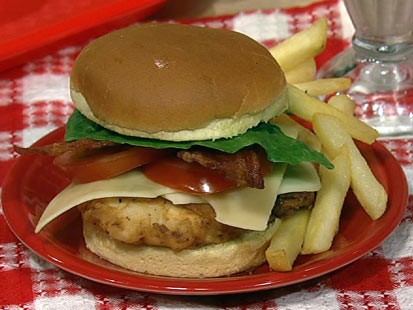 From the kitchen of Clinton Kelly
Ingredients
1 cup Flour
1 cup Buttermilk
1/2 teaspoon Tabasco
1/2 teaspoon Garlic powder
1/2 teaspoon Onion powder
4 Skinless and boneless chicken breast halves
Oil for frying
4 Potato rolls (toasted)
2 tablespoon Ranch Dressing
1 Slice of tomato
2 pieces of cooked bacon
2 leaves of lettuce
1 piece Asiago cheese
Cooking Directions
Place flour and buttermilk in two separate shallow bowls.
Mix buttermilk with Tabasco. Add garlic powder, onion powder, salt and pepper to flour and mix. Lightly pound the cutlets. Dredge chicken in the flour then dip in buttermilk, then back in flour.
To large skillet over high heat, fry chicken pieces until golden brown and cooked through, about 3 minutes on each side. Oil should be 350/360 degrees F.
Spread Ranch Dressing on one side of roll.
Place the chicken cutlet on one of the slices of bread.
Layer with slice of asiago, tomato, bacon, lettuce and the top bun.
Recipe courtesy The Chew.
Recipe Summary
Main Ingredients: tomato, bacon, flour, buttermilk, tabasco, potato rolls, chicken breast
Course: Lunch