Clinton Kelly's Chicken Pot Mini Pies
Take Some Simple Shortcuts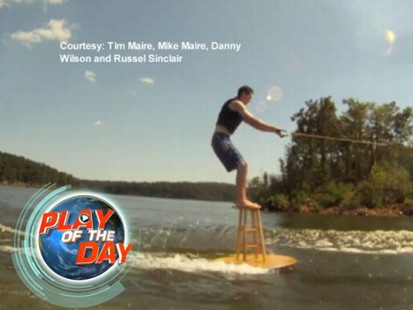 Josh Elliott reveals crazy video of person's interesting take on waterskiing.
From the kitchen of Clinton Kelly
|
Take the difficulty out of making homemade pot pie with store bough pie crust and rotisserie chicken. Follow these simple shortcuts for the perfect mini pies!
For more great recipes visit The Chew's site.
Ingredients
2 Packages Pie Dough Store-bought
2 tablespoon Butter
1 onion diced
1 garlic clove minced
1 sprig thyme leaves only
salt and pepper to taste
3 tablespoon flour
1 cup chicken stock
1/2 cup heavy cream
1 store bought rotisserie chicken picked and bones discarded
1 cup frozen peas and carrots thawed
1 egg beaten
vegetable oil for frying
Cooking Directions
Defrost the pie dough in the refrigerator overnight.

Heat a large dutch oven over medium high heat and add the butter. Saute the onions and garlic over medium heat until tender, about 4 minutes. Add the thyme and season with salt and pepper.

Whisk in the flour and cook for another minute. Add the chicken stock and the heavy cream and simmer until slightly thick, about 8 to 10 minutes.

Fold in the chicken and the peas and carrots and bring back up to a simmer.

Remove from the heat and let cool. Refrigerate until totally chilled, about 2 hours. Lay out the pie shell on a counter dusted with flour. Use a 3 inch cookie cutter to cut circles. Discard the excess dough.

Place 1 heaping tablespoon of the pot pie mixture in the middle of the circle and brush the edges with egg. Fold into a half moon and crimp the edges with a fork. Repeat with the remaining circles.

Add the pastries to the oil and fry for 3 to 4 minutes until the pastry is golden brown and the filling is warm throughout.

Recipe courtesy of The Chew.
Other Recipes That You Might Like