Clinton Kelly's Mini Twice Baked Couch Potatoes
Gourmet TV Snack Food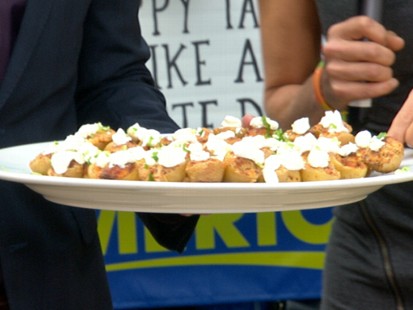 Star of "The Chew" also prepares mac n' cheese bites and chocolate fondue for Emmy parties.
From the kitchen of Clinton Kelly
Try Clinton Kelly's mini twice baked couch potatoes. These crunchy potatoes are the perfect finger food.
Ingredients
2 lbs larger sized new potatoes
4 oz cream cheese
4 oz cheddar cheese
1/2 pound bacon, cooked til crisp and crumbled
4 Scallions, chopped plus more for garnishing
Cooking Directions
At 350, Bake potatoes for 40 minutes, remove from oven and set aside to cool for 10 minutes. Protecting your hands, slice potatoes in half and, using a melon baller, scoop out insides into a bowl. Save skins to refill.
Add cream cheese, cheddar cheese, bacon and scallions to potato and mix. Scoop mix back into potato shells
Using a mini muffin tin, if needed, to stabilize the potatoes, bake again at 350 for 10 minutes.
Serve with a dollop of sour cream and scallions on top.
Recipe courtesy Clinton Kelly.
This recipe was styled by chef Karen Pickus for Good Morning America.
Recipe Summary
Main Ingredients: cheese, bacon, scallions
Course: Appetizer/Starter
More Info: Kid Friendly