Clinton Kelly's Sesame Chicken Wontons
A Crunchy Appetizer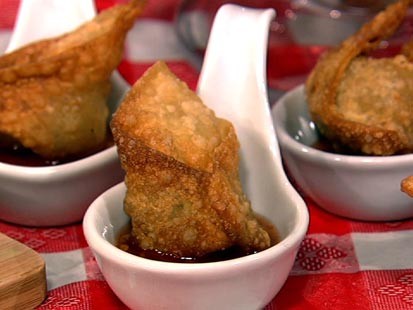 From the kitchen of Clinton Kelly
Ingredients
1 Lb Finely chopped Rotisserie
2 cloves Garlic, minced
1 Tbsp Ginger, minced
1 bunch Scallions, finely chopped
3 Tbsp Soy Sauce
2 Tbsp Rice Vinegar
1 Tbsp Toasted Sesame Oil
1 Tsp Sesame Seeds
Salt and Pepper
1 Lb Wonton Wrappers
Vegetable Oil, for frying
Cooking Directions
In a large, non-reactive bowl, combine all ingredients except for Wonton Wrappers and Vegetable Oil. Mix well.
To make the wontons:
Fill a small glass or bowl with water to moisten fingertips.
Place about a tablespoon of the mixture into the center of each wonton wrapper, and run finger along edges of two sides of the wrapper so that when folded into a triangle, they close wet surface to dry surface.
Preheat oil to 350F.
Drop wontons into oil, cook until golden brown. Transfer to a paper towel lined plate and allow to cool before serving.
Recipe courtesy The Chew.
Recipe Summary
Main Ingredients: garlic, ginger, wonton wrappers, oil, salt, pepper, garlic
Course: Appetizer/Starter
More Info: Kid Friendly