Kayla Itsines' Coconut Chili Shrimp With Greens Recipe
A Healthy Dinner Idea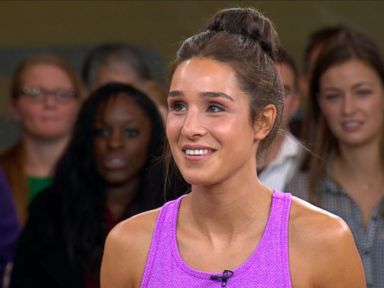 The Instagram fitness queen talks about her upcoming book "The Bikini Body" and shares her exercise and diet tips on "GMA."
From the kitchen of Kayla Itsines
Kayla Itsines became a fitness sensation with 6 million Instagram followers for her high-energy workout routines and videos. Now she's sharing her meal plans for health eating in a new book, "The Bikini Body 28-Day Healthy Eating & Lifestyle Guide." Try her recipe for coconut chili shrimp with greens as seen on "Good Morning America."
Ingredients
½ cup light coconut milk
Finely grated zest and juice of 1 lime
1 garlic clove, crushed
1 fresh long red chili, finely chopped
2 teaspoons fish sauce
2 teaspoons salt-reduced tamari or soy sauce
20 medium raw shrimp, peeled and deveined, tails intact
4 1/4 oz. brown rice
1/2 lb bok choy, chopped 15 green beans, trimmed and halved
3 oz. snow peas, trimmed 1 tablespoon chopped
fresh cilantro
2/3 oz. sesame seeds lime wedges, to serve
Cooking Directions
Whisk the coconut milk, lime zest and juice, garlic, chili, ?sh sauce, and tamari or soy sauce together in a large bowl. Add the shrimp and toss well to combine. Cover with plastic wrap and refrigerate for 1–2 hours to marinate, if possible.
Soak 10 wooden skewers in cold water for 30 minutes. This will help stop them from burning when cooking the shrimp.
Place the rice and 1¼ cups of water in a small saucepan over high heat and bring to the boil, stirring occasionally. Cover and reduce the heat to medium-low. Simmer for 20 to 25 minutes or until the liquid is absorbed and the rice is tender. Remove from the heat and leave to stand, covered, for 5 minutes.
Preheat the barbecue or chargrill over medium-high heat. Thread the shrimp onto the skewers. Grill for about 3 minutes on each side or until cooked to your liking. Once cooked, brush over again with the marinade.
Fill a saucepan with water until 2 in deep and insert a steamer basket. Cover with a lid and bring the water to the boil over high heat, then reduce the heat to medium. Add the bok choy and green beans and steam for 3 minutes, covered. Add the snow peas and steam for a further 2–3 minutes or until the vegetables are tender-crisp.
To serve, place the rice, shrimp skewers, and steamed greens on two serving plates. Sprinkle over the sesame seeds and cilantro.
Serve with lime wedges on the side.
This recipe is reprinted with permission from "The Bikini Body 28-Day Healthy Eating & Lifestyle Guide."
Food styling by Karen Pickus for "Good Morning America."
Recipe Summary
Main Ingredients: coconut milk, red chili, garlic, shrimp, brown rice, bok choy
Course: Dinner, Main Course