Coconut Mint Oreo Sundae
An Ice Cold Minty Treat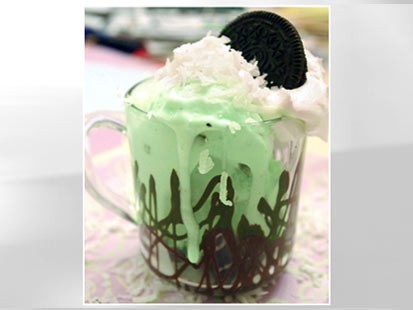 From the kitchen of Lauren Torrisi
This recipe is the ultimate ice cream indulgence. The decorative chocolate in the bottom of the glass makes it look gourmet but it's so easy to do. The combination of mint, coconut and chocolate is one you'll be addicted to!
Visit Lauren's blog to see more recipes and photos of the desserts.
Ingredients
1 gallon mint chocolate chip ice cream
1 cup shredded coconut
1 package Oreo cookies
1 container whipped topping or
4oz chocolate for melting
Cooking Directions
Chill 4 glass coffee or wine glasses in the freezer.
In a double boiler, melt the chocolate. Drizzle the chocolate in the glasses with a spoon. (Or put the chocolate in a small plastic bag and cut a small hole in the end to create a piping bag- the chocolate is easier to handle this way.)
Once the chocolate has hardened, crush Oreos and place them in the bottom of the glasses. Top with two scoops of icecream and add more crushed Oreos along with coconut.
Add one more scoop to each glass and top with whipped topping. Sprinkle with coconut and garnish with an Oreo.
Recipe courtesy Lauren Torrisi.
Recipe Summary
Main Ingredients: oreo cookies, coconut, whipped cream,
Course: Dessert
More Info: Kid Friendly