Coconut Pecan Pound Cake
The Perfect Cake for Parties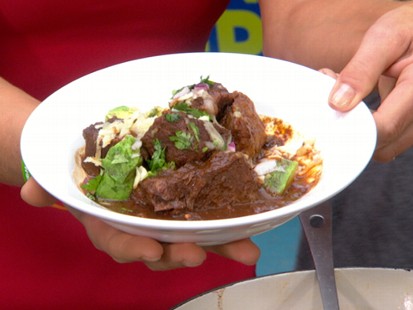 Co-stars of ABC?s popular show "The Chew" cook meals from "The Chew: Food. Life. Fun."
From the kitchen of Daphne Oz
Try Daphne Oz's coconut pecan pound cake recipe. Glazed and dusted with powdered sugar, this cake is best enjoyed right out of the oven.
To pick up a copy of Hyperion's "THE CHEW: FOOD. LIFE. FUN.", visit the site here.
Ingredients
2 cups suggar
1 cup unsalted butter
4 eggs
3 cups of flour
1/2 teaspoon baking powder
1/2 teaspoon salt
1 cup buttermilk
1 cup unsweetened flaked coconut
1 cup pecans, chopped
For the glaze:
1/2 cup water
2 tablespoons salted butter
1 cup sugar
Powdered sugar for dusting
Cooking Directions
Preheat oven to 350
In a large bowl, combine the sugar and butter and beat with an electric mixer until light and fluffy, approximately 3 minutes. Add in the eggs one at a time, until combined
Combine the flour, baking powder, and salt in a sep bowl
Add the dry ingredients, alternating with the buttermilk, in three parts to the batter and mix gently, until just moistened. Stir in the coconut and pecans. Pour the batter into a pound cake mold. Bake for 60 minutes or until a knife inserted in the center comes out clean
For the glaze:
Five minutes before the cake is finished baking, make the glaze by combining the water, butter and sugar in a saucepan and bring to a boil. Reduce heat and cook for 5 min.
Slowly pour half the syrup over the cake, invert the cake onto a serving plate and pour the remaining syrup over the top. Dust with powdered sugar. Let sit for 10 minutes and eat warm!
Recipe courtesy Daphne Oz.
This recipe was styled by chef Karen Pickus for Good Morning America.
Recipe Summary
Main Ingredients: water, butter, sugar
Course: Dessert
More Info: Kid Friendly