'Hungry Girl' Lisa Lillien's Cold Sesame Zucchini Noodles
Try This All-Natural Dish!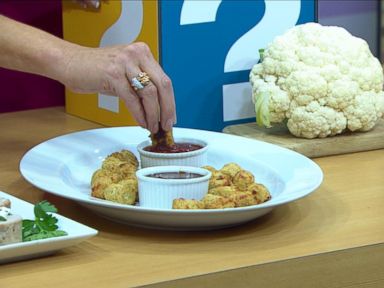 Lillien is live in Times Square to dish on her latest book - "Hungry Girl Clean & Hungry" - and she's sharing four of her recipes!
From the kitchen of 'Hungry Girl' Lisa Lillien
Ingredients
You'll Need: small bowl, spiral vegetable slicer (or vegetable peeler), medium bowl
1 tablespoon reduced-sodium/lite soy sauce
1 1/2 teaspoons plain rice vinegar
1 1/2 teaspoons powdered peanut butter/de-fatted peanut flour
1 teaspoon sesame oil
Half a packet natural no-calorie sweetener
1/4 teaspoon crushed garlic
1/8 teaspoon ground ginger
10 ounces (about 1 large) zucchini
2 tablespoons chopped scallions
1 teaspoon sesame seeds
Optional topping: red pepper flakes
Cooking Directions
Nutrition Info: Entire recipe: 137 calories, 7.5g total fat (1g sat fat), 576mg sodium, 15g carbs, 4g fiber, 8.5g sugars, 7g protein
These peanutty noodles don't even need to be cooked. Have this dish as a snack, or add a little protein (shrimp rocks!) to make it a meal!
1. To make the sauce, in a small bowl, combine soy sauce, rice vinegar, powdered peanut butter/peanut flour, sesame oil, sweetener, garlic, and ginger. Using a fork, whisk until uniform.
2. Using a spiral vegetable slicer, cut zucchini into spaghetti-like noodles. (If you don't have a spiral veggie slicer, peel zucchini into super-thin strips, rotating the zucchini after each strip.) Roughly chop for shorter noodles.
3. Place zucchini noodles in a medium bowl. Add sauce, and toss to coat. Cover and refrigerate until chilled, at least 15 minutes.
4. Give mixture a stir, and top with scallions and sesame seeds.
Recipe styled by Karen Pickus, chef/food stylist, "Good Morning America."
Recipe courtesy: HUNGRY GIRL CLEAN & HUNGRY: EASY ALL NATURAL RECIPES FOR HEALTHY EATING IN THE REAL WORLD. COPYRIGHT 2016 BY HUNGRY GIRL, INC. ALL RIGHTS RESERVED.
Recipe Summary
Main Ingredients: sesame oil, zucchini, scallions
Course: Dinner, Lunch, Main Course