Peanut Butter Mousse
A Peanut Butter Recipe You Haven't Tried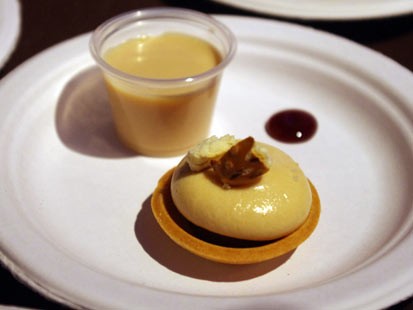 From the kitchen of Stephen Collucci of Colicchio & Sons
This peanut butter mousse was the delicious filling in these tarts served at the New York City Wine and Food Festival. Chef Stephen Collucci of "Coliccho and Sons" served it with a subtle sweet banana malted milk.
When you make it at home, it can be used as a filling for your favorite pie recipe, or eaten alone topped with bananas!
Ingredients
12 oz. peanut butter
1 lb. cream cheese
1 cup of sugar
2 cups of whipped cream
Cooking Directions
Using a stand mixer, cream together the peanut butter, cream cheese, and sugar until light and fluffy. Whip cream and fold into peanut butter mixture until the two are combined. Mousse can then be piped right away or refrigerated and saved for later use.
Recipe courtesy Stephen Collucci of "Colicchio & Sons."
Recipe Summary
Main Ingredients: peanut butter, cream cheese, sugar, cream
Course: Snack, Dessert
More Info: Kid Friendly, Wheat/Gluten Free