Colonel Sanders' Fried Tomatoes
Celebrate Tomato Season With This Delicious Snack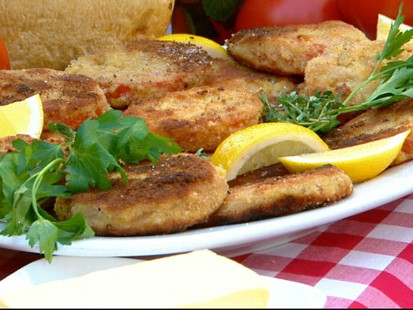 Amy Robach talks to a chef putting a new spin on the colonel's dishes.
From the kitchen of Colonel Sanders
|
Ingredients
3 large firm, ripe tomatoes (Beefsteak tomato or similar)
Salt and freshly ground black pepper
3–4 tablespoons (45 to 60 mL) of milk
2 eggs, slightly beaten
Unseasoned bread crumbs
Flour
1 tablespoon butter plus more as needed
3 tablespoons vegetable oil plus more as needed
Cooking Directions
Slice tomatoes 1/2-inch (13 mm) thick. Season with salt and pepper. Set aside.
Whisk together milk and eggs in a shallow dish. In another shallow dish, spread out a thick layer of bread crumbs. Place dishes side by side on the counter so you can bread the tomatoes before frying.
Dip each tomato slice in the egg-milk mixture to coat, then in the flour. Dip the floured tomato slice back into the egg, and then into the bread crumbs.
With heat at medium-high, add butter and oil to 10-inch (25 cm) skillet.
When butter is melted and oil is hot, place coated tomato slices (three or four at a time) in the frying pan, and fry until golden brown on each side, about 3 to 5 minutes per side. Add more butter or oil to the pan, as necessary.
Drain cooked tomato slices on a plate that has been covered with a paper towel.
Edward Lee's Variation: Instead of serving as a side dish, turn these delicious fried tomatoes as the centerpiece of a salad. Start with a small bed of Bibb or Boston lettuce, place two or three fried tomatoes over the lettuce and top with a dollop of buttermilk dressing over each fried tomato.
Buttermilk Dressing:
1/4 cup buttermilk, 1 garlic clove smashed, 3 tablespoons sour cream, 3 tablespoons mayonnaise, 1 teaspoon lemon juice, 1/4 cup chopped herbs – a mix of parsley, chives and tarragon, Salt and pepper to taste
Combine all ingredients into a blender and puree on medium until fully blended. Store in a glass jar in the refrigerator until ready to use.
Recipe courtesy KFC.
This recipe was styled by chef Karen Pickus for Good Morning America.
Other Recipes That You Might Like