Smashburger's Colorado Burger
Better Burger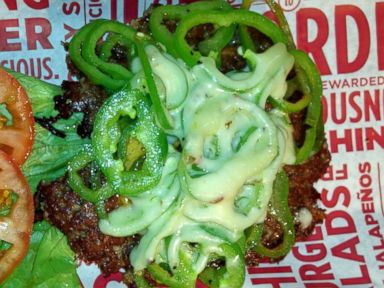 From the kitchen of Smashburger
|
May marks National Burger Month, which is practically an American rite of passage. If you don't eat at least one burger this month, consider it a letdown to your country. Try Smashburger's Colorado-inspired burger to kick things off.
Ingredients
Jalapeño pepper rolls, or any other spicy rolls you may find
1 pound ground beef (80-85% lean)
Pepper jack cheese slices
Cold pack cheddar cheese
6 Anaheim or hatch chilis, raw and thinly sliced
1 tomato, thinly sliced
Leaf lettuce
Chipotle or sriracha mayo
Unsalted butter, melted
Kosher salt
Black pepper
Cooking Directions
Separate the 1 pound ground beef into halves or quarters (1/2-pound or 1/4-pound burgers), balling them into loosely packed meatballs.
Paint the inside of the bread rolls with butter.
Toss the green chilis with 1 teaspoon melted butter, salt and pepper.
On a large hot griddle, paint 2-4 spaces with melted butter. Place the meatballs on the butter and smash for 10 seconds with the back of a heavy spatula. Season with salt and pepper.
Place the green chilis on the grill and caramelize for 2-3 minutes. Then divide into 4 portions. Spread each portion out flat, then place a slice of pepper jack cheese on each portion and let melt.
Place the rolls on the griddle butter side down to butter toast.
Turn the burgers and melt 1 to 1 1/2 ounces of cold pack cheddar on each burger. Melt and cook the burger to desired doneness.
Place the burger on the bottom of the bun, layer the chilis/melted pepper jack on top.
Add two leafs of lettuce, two slices of tomato, and spread 1 to 1 1/2 ounces of chipotle or sriracha mayo on the crown of the roll.
Other Recipes That You Might Like