Cookies and Cream Brownies
A Brownie Treat That Everyone Will Love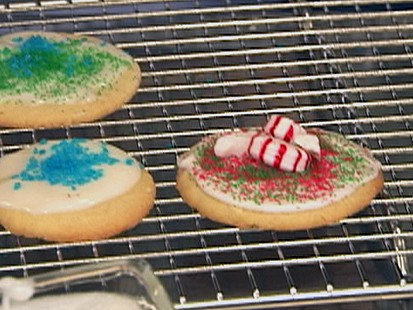 Jamie and Bobby Deen sprinkle old favorites on sugar cookies.
From the kitchen of Anne Byrn
"I just have no willpower when these brownies are in the house! And whereas I seldom mention a food product by name, there is one and only one Oreo cookie and that's what I call for here. Bake these brownies ahead and freeze them covered in the pan. Or cover and stash them in an out-of-the-way place; if any one finds them they will be eaten."
-Anne Byrn
Ingredients
For the brownies:
Vegetable oil spray, for misting the pan
1 package brownie mix (about 20 ounces)
8 tablespoons (1 stick) butter, melted
2 large eggs
4 Oreo cookies, coarsely chopped (1/2 cup)
For the frosting:
4 ounces cream cheese, at room temperature
2 tablespoons (1/4 stick) unsalted butter, at room temperature
1 cup confectioners' sugar, sifted
8 Oreo cookies, coarsely chopped (1 cup)
Cooking Directions
Makes:
16 brownies
Prep:
15 minutes
Bake:
40 to 42 minutes
Cool:
20 minutes
1. Make the brownies: Place a rack in the center of the oven and preheat the oven to 325°F. Lightly mist the bottom of an 8-inch square metal baking pan with vegetable oil spray and set the pan aside.
2. Place the brownie mix, melted butter, and eggs in a large mixing bowl and stir with a wooden spoon until moistened, about 40 strokes. Transfer the batter to the prepared baking pan and press the 1/2 cup of chopped Oreos onto the top of the batter. Place the pan in the oven.
3. Bake the brownies until the edges have set and the center is still a little soft (press it lightly with a finger), 40 to 42 minutes. Transfer the baking pan to a wire rack and let the brownies cool for 20 minutes before frosting.
4. Make the frosting: Place the cream cheese and room temperature butter in a large mixing bowl and beat with an electric mixer on low speed until soft, 30 seconds. Turn off the machine and add the confectioners' sugar. Beat on low speed until the confectioners' sugar is incorporated, 30 seconds longer. Fold in the 1 cup of chopped Oreos.
5. Spoon the frosting on top of the cooled brownies in the pan. Using a small metal spatula, spread the frosting evenly over the top of the brownies. Place the brownies in the refrigerator for 10 minutes until the frosting sets before cutting them into 2-inch square bars and serving.
Keep It Fresh! Store the brownies, covered with plastic wrap or aluminum foil, in the refrigerator for up to five days. Freeze the brownies in the pan, covered with aluminum foil, for up to three months. Let the brownies thaw overnight in the refrigerator before serving.
Speed It Up!
Don't have 20 minutes for the brownies to cool? Place the pan in the refrigerator and they'll be cool in half the time.
Recipe Summary
Main Ingredients: oreo cookies, brownie mix, cream cheese
Course: Dessert
More Info: Kid Friendly