Cooking Light's Eggplant and Onion Noodle Salad With Warm Soy-Rice Vinaigrette
An Asian Inspired Salad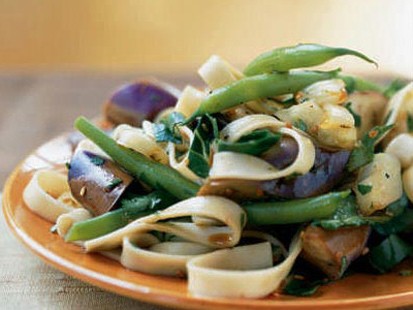 From the kitchen of Cooking Light
"Rice vinegar is mild and slightly sweet, so it's a good choice to pair with salty soy sauce in this Asian-style vinaigrette. Eggplant easily absorbs large quantities of oil. Salt it before cooking, and use a ridged grill pan to reduce the oil. Serve this salad warm or at room temperature with fish or chicken."
For more great eggplant recipes from Cooking Light, check out these galleries:
Ingredients
1 pound Japanese eggplant, cut in half lengthwise
1 teaspoon kosher salt
1 cup green beans, trimmed
2 tablespoons rice vinegar
2 tablespoons low-sodium soy sauce
1 teaspoon honey
1 teaspoon dark sesame oil
1/8 teaspoon black pepper
1 garlic clove, minced
1 mild red or green chile pepper, seeded and minced (such as Fresno)
Cooking spray
1 cup (1/2-inch-thick) slices Walla Walla or other sweet onion
2 1/2 cups chopped bok choy stalks and leaves
2 cups hot cooked wide lo mein noodles (about 4 ounces uncooked)
1 green onion, cut diagonally into (1-inch) pieces
1 tablespoon toasted sesame seeds
1 tablespoon chopped fresh cilantr
Cooking Directions
Place the eggplant halves in a colander, and sprinkle with salt. Toss well; drain 1 hour. Rinse well, and pat dry.
Place beans in a large saucepan of boiling water; cook 4 minutes. Drain and plunge into ice water; drain. Place beans in a large bowl.
Combine vinegar and next 6 ingredients (vinegar through chile pepper) in a microwave-safe dish, stirring with a whisk. Microwave at HIGH 1 minute.
Heat a large nonstick or cast-iron grill pan coated with cooking spray over medium-high heat. Add eggplant halves to pan; cook 3 minutes on each side or until just tender. Remove from pan. Add onion to pan; cook 3 minutes on each side or until tender. Remove from pan. Cut eggplant halves diagonally into 1 1/2-inch-wide pieces. Coarsely chop onion. Add eggplant pieces, chopped onion, bok choy, and noodles to green beans; toss to combine. Add vinegar mixture, green onion, sesame seeds, and cilantro; toss well to coat.
Recipe courtesy Cooking Light.
Recipe Summary
Main Ingredients: eggplant, salt, chile pepper, soy sauce, onion
Course: Dinner
More Info: Kid Friendly