Coolhaus' Maple Bacon Hot Chocolate
A New Take on a Cold-Weather Classic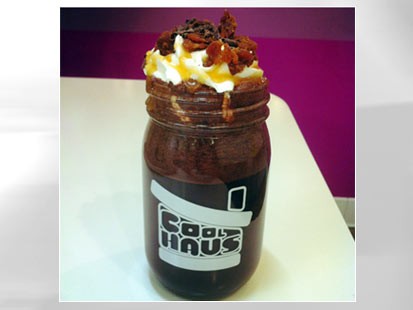 From the kitchen of Coolhaus
Do you love bacon and chocolate? Why not try them together in this awesome hot chocolate recipe. Infused with maple syrup, this is the perfect drink for a cold snowy day!
For more information on Coolhaus, check out there site here.
Ingredients
For the candied bacon:
4 strips good quality bacon, diced
2 tablespoon brown sugar
For the hot chocolate:
2 cups milk
5 ounces dark chocolate, chopped
1 teaspoon maple sugar, or to taste
1 teaspoon maple syrup, good quality (grade B)
For the whipped cream:
1/2 cup cold heavy whipping cream
1/4 teaspoon pure vanilla extract
1/2 tablespoon maple sugar or maple syrup
Sea salt flakes, grated chocolate (optional)
Cooking Directions
Candied bacon: in skillet, over medium heat, add in diced bacon. Once it starts rendering, add in brown sugar. Stir consistently to keep the bacon and brown sugar mixing and cooking. Once it is golden and crispy, using a slotted spoon, removed candied bacon bits, placing on a paper-towel lined plate; allow to cool. If necessary, chop to tiny bit size pieces after cooling.
Hot Chocolate: Place the milk, maple syrup and maple sugar in a saucepan over medium heat and whisk periodically until the mixture just reaches the boiling point. Remove from heat and whisk in chopped chocolate until smooth and dissolved. If more foam is desired, use a wire whisk or hand held immersion blender to whip the hot chocolate.
Whipped Cream: In your mixing bowl, place the whipping cream, vanilla extract, and sugar and stir to combine. If you have time, cover and chill the bowl and wire whisk in the refrigerator for about 30 minutes. When chilled, beat the mixture until stiff peaks form. The whipped cream will keep in the refrigerator for a day or two, re-whip as necessary.
Assemble:
Pour the hot chocolate into two cups and garnish with a dollop of whipped cream. Sprinkle with candied bacon bits, and a tiny bit of the sea salt grated chocolate, if desired.
Preparation time: about 10 minutes, plus 10 minutes for candied bacon.
Note: To make hot mocha simply replace 1/2 cup milk with your favorite brewed coffee.
Note: Leftovers can be covered and stored in the refrigerator for a couple of days. Reheat.
Makes 2 - 8 ounce servings.
Recipe courtesy Coolhaus.
Recipe Summary
Main Ingredients: bacon, brown sugar, maple syrup, sea salt, chocolate
Course: Drinks