Amanda Freitag's Cornbread and Challah Stuffing
Jazz Up Your Turkey With This Tasty Side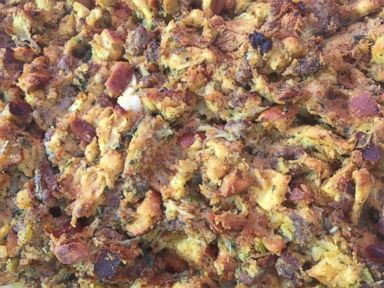 From the kitchen of Amanda Freitag
Food Network favorite Amanda Freitag and author of "The Chef Next Door" shares her Thanksgiving recipe for this hearty stuffing with "Good Morning America."
Ingredients
Nonstick Cooking Spray
1 loaf challah bread, cut into cubes (about 4 cups)
4 cups cubed corn bread
1/2 cup (1 stick) unsalted butter
2 onions, diced
4 celery ribs, diced
6 garlic cloves, sliced
1/3 cup chopped fresh sage leaves
1/2 cup chopped fresh parsley leaves
4 cups Chicken Stock, plus more as needed
2 teaspoons kosher salt
1 teaspoon freshly cracked pepper
Cooking Directions
Prep: Cube the breads, peel and dice the onions, dice the celery, peel and slice the garlic, chop the sage and parsley.
Preheat the oven to 350 degrees F. spray a 9x13-inch roasting pan with nonstick cooking spray.
Place the challah and corn bread cubes on separate rimmed baking sheets and toast them until lightly browned and dry, about 10 minutes. Transfer the bread cubes to a large bowl.
Melt the butter in a large sauté pan over medium heat. Add the onions, celery, and garlic and cook until translucent, 10 to 12 minutes.
Add the sage, parsley, and chicken stock and bring to a boil. Season with salt and pepper and stir. Cook for 1 minute, then pour the stock mixture over the bread in the bowl. Use a large spoon to mix the stuffing thoroughly.
Transfer the stuffing to the prepared roasting pan and distribute it evenly.
Bake for 45 minutes to 1 hour, until nicely browned on top but still moist inside. Serve warm.
Reprinted with permission from "The Chef Next Door: A Pro Chef's Recipes for Fun, Fearless Home Cooking" by Amanda Freitag.
This recipe was styled by chef Karen Pickus for "Good Morning America."
Recipe Summary
Main Ingredients: challah, corn bread, butter, onions, chicken stock
Course: Dinner