Trisha Yearwood's Cornbread-Chili Casserole
Try This Savory Dish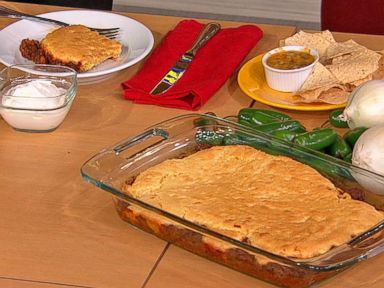 The country music star shares delicious recipes for the New Year.
From the kitchen of Trisha Yearwood
Trisha Yearwood is a self-professed "chick singer who cooks" with two best-selling cookbooks and a Food Network TV show to her name, as well as albums full of hit country music songs. The Georgia native appeared on "Good Morning America" to share the recipe for her "Cornbread-Chili Casserole." Try it in your kitchen today!
Ingredients
1 tablespoon vegetable oil
1 medium onion, chopped
1 1/2 pounds lean ground beef
1 1/2 cups mild salsa (medium or hot if preferred)
1 (11-ounce) can whole-kernel white shoepeg corn, drained
1/4 cup vegetable stock
2 tablespoons hot Mexican chili powder
1 teaspoon cumin
1 teaspoon salt
1/2 teaspoon freshly ground black pepper
1 (7- or 8-ounce) box cornbread muffin mix (I like Jiffy)
1/2 cup whole milk
1 cup shredded Cheddar cheese (about 4 ounces)
1/4 cup sour cream
Cooking Directions
Preheat the oven to 375 F. In a large skillet over medium heat, heat the oil until shimmering, about 2 minutes. Add the onion and saute until soft, 5 to 7 minutes. Add the ground beef to the onion, break up, and brown, 8 to 10 minutes. Drain any excess fat. Stir in the salsa, corn, vegetable stock, chili powder, cumin, salt, and pepper. Transfer the mixture into a 9 x 13-inch baking dish, smoothing into an even layer.
Mix the corn muffin mix with about 1/2 cup milk, or just enough to make it easy to spread. Spread it thinly over the chili mixture. Bake until browned on top, 30 to 35 minutes. Remove from the oven and set aside for 10 minutes to allow the casserole to set. Top with the cheese and sour cream before serving.
Reprinted from "Trisha's Table: My Feel-Good Favorites for a Balanced by Trisha Yearwood." Copyright 2015. Published by Clarkson Potter/Publishers.
This recipe was styled by chef Karen Pickus for "Good Morning America."
Recipe Summary
Main Ingredients: cornbread muffin mix, milk, cheese, ground beef, salsa
Course: Dinner, Appetizer/Starter, Lunch, Starch