Home
>
GMA
>
Recipes Home
>
Cedric Tovar's Crab Eggs Benedict with Rice Cakes and Curry Hollandaise
Cedric Tovar's Crab Eggs Benedict with Rice Cakes and Curry Hollandaise
Benedict Bar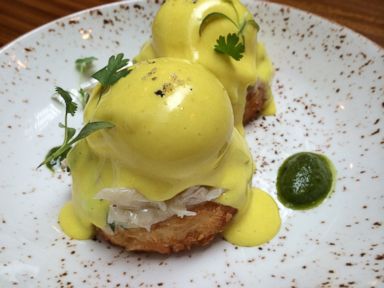 From the kitchen of Cedric Tovar
|
Yes, you could stick with the classic (and delicious) eggs benedict over an English muffin and Canadian bacon. Or you could branch out with one of New York City restaurant Tessa's executive chef Cedric Tovar's recipes, like this one for Crab Benedict over Rice Cakes and Curry Hollandaise.
Ingredients
For Eggs:
16 fresh eggs
1 cup of distilled white alcohol vinegar
10 ounces of crab meat
1 ounce of chopped celery leafs, chives and parsley
1/2 ounce of butter
For Lemon Arancini Cakes:
3.5 cups unsalted vegetable stock or store-bought low-sodium vegetable broth
4 tablespoons (1/2 stick) unsalted butter
1/2 small onion, peeled, trimmed, chopped in small brunoise
2 peeled and split garlic cloves
3 leaf of bay leafs
1 cup Arborio rice
Salt and freshly ground white pepper
1/2 cup freshly grated Parmesan cheese
1/2 tablespoon mascarpone cheese
1 lemons confit, cut into brunoise
1 lemon juice
1/2 cup all-purpose flour
1 egg, lightly beaten
1 cup bread crumbs
Peanut oil for deep frying
For Curry Hollandaise Sauce:
2 egg yolks
1/2 pound of clarified butter (melted butter separated from its milk content)
1 lime juice
1/4 teaspoon of Curry Madras powder
Salt & white pepper
Cooking Directions
Make the lemon arancini cakes: Bring the vegetable stock to a boil in a large saucepan. Reduce the heat to medium-low and keep the stock at a slow, steady simmer.
Melt the butter in a medium casserole over medium heat. Add the onion, the garlic and cook, stirring, just until the onion is translucent but not colored for about 5 minutes. Add the rice, season with salt and pepper and cook, still stirring, for about 3 more minutes. Add 1/2 cup of the hot stock and the bay leaf. Cook, stirring often, until the rice absorbs most of the liquid. Add another 1/2 cup of the hot stock and cook and stir as before. Continue cooking, stirring regularly and adding the stock 1/2 cup at a time, until 3 cups of stock have been added. At this point, taste the rice. Usually, the rice will need another 1/2 cup of stock and a few more minutes to cook.
Stir in the parmesan and mascarpone cheese, add the lemon confit. Taste and season with salt and pepper. Finish with the lemon juice, poor in a flat dish and refrigerate until cold.
Scoop the rice into a 3-inch ring mold in discs of equal size. Dip and coat each rice disc into the all-purpose flour, then into the eggs, and finally into the bread crumbs, making sure to coat them evenly and gently tapping off any excess. Place the discs on a parchment paper-lined baking sheet and freeze for at least 2 hours.
Pour 3 to 4 inches of canola oil into a deep pot and heat the oil until it reads 325 degrees F on a deep-fat thermometer. Fry the discs in batches until golden brown, 2 to 3 minutes for each batch. Using a slotted spoon, carefully lift the discs out of the oil and onto a plate lined with a double thickness of paper towels. Pat off any excess oil and season with salt. Serve immediately.
Make the curry hollandaise: Place the egg yolks in a medium sauce pan, add 1 ounce of water, (little less than the volume of egg yolks). Whisk until fluffy and slowly bring the sabayon to temperature. We want to eggs to reach 144 degrees F. There are 2 signs to look for as it reaches this temperature: the fluffy egg yolks will become stiffer and you will be able to see the bottom of the pot and steam will start coming out.
Place the pot out of the fire on a wet towel and start pouring the melted butter (also called clarified butter) and whisk firmly until all the butter is incorporated. Season with salt, curry powder, pepper and add the lime juice. Place the sauce in a warm spot so the butter in the sauce does not solidify.
To poach the eggs: Bring 1/2 gallon of water to a boil with 1 cup of distilled white alcohol vinegar. Crack the eggs in small individual plastic cups, then poor the eggs, 8 at a time and cook for 3.10 min. Scoop the eggs out of the water delicately. Repeat the operation with the other 8 eggs.
To plate: Place 2 arancini discs per plate, cover with the warm crab meat, mixed with the butter and herbs, place the poached eggs over the crab. Coat the eggs with the curry hollandaise, finish with chopped herbs and curry powder.
Other Recipes That You Might Like