Home
>
GMA
>
Recipes Home
>
Bobby Flay's Cracked Wheat Dressing with Wild Mushrooms, Cherries, Sausage and Goat Cheese
Bobby Flay's Cracked Wheat Dressing with Wild Mushrooms, Cherries, Sausage and Goat Cheese
Dolled Up Dressing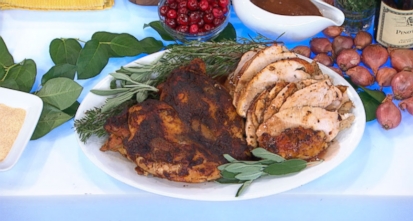 Food Network star shows how to wow a crowd with cedar plank roasted turkey and gravy.
From the kitchen of Bobby Flay
|
Add some regional flair to your Thanksgiving table this year with celebrity chef Bobby Flay's Pacific Northwest-themed dishes. Try this recipe for Cracked Wheat Dressing with Wild Mushrooms, Cherries, Sausage and Goat Cheese.
Ingredients
1 cup bulgur, quick cooking works fine in this recipe
2 cups cold water
½ pound Italian sweet pork sausage, removed from casing
4 tablespoons unsalted butter, plus extra for greasing the dish
1 cup Spanish onion, small dice
½ cup carrot, small dice
½ cup celery, small dice
2 cloves garlic, finely chopped
1 pound assorted mushrooms, such as shitake, oyster and cremini, thinly sliced
2 tablespoons fresh thyme, chopped
3 1/2 cups country-style bread, crust removed, cubed and toasted (or staled)
¼ cup dried cherries, chopped
3 cups low sodium chicken stock
3 ounces fresh goat cheese, crumbled
1/3 cup fresh flat leaf parsley, chopped
1 egg, beaten
Freshly ground black pepper
Kosher salt
Cooking Directions
Preheat oven to 375º. Combine the bulgur, water and 1 tablespoon of salt in a saucepan, bring to a boil, reduce to a simmer and cook, covered for approximately 15 minutes until done. The bulgur should be bloomed, and water should be completely absorbed. Transfer bulgur to a plate and set aside.
Heat 1 tablespoon of butter over medium- high heat in a large sauté pan. Add the sausage and cook through, approximately 10 minutes. Add the onion, carrot and celery to the cooked sausage mixture and cook until the vegetables are soft. Add the garlic and the thyme and cook for another minute or so, until fragrant. Transfer the vegetable mixture to a large bowl and set aside.
Return the pan to the heat, wiping out the sauté pan if necessary, and add 2 tablespoons of butter. Add half of the mushrooms and sauté until golden brown. Transfer mushrooms to the large bowl of cooked vegetables and return the pan to the heat. Add 1 tablespoon of butter and the remaining mushrooms, sauté until golden brown. Transfer the remaining mushrooms to the large bowl as well.
In a small saucepan add ½ cup of chicken stock and the cherries, bring up to a boil and then turn off the heat. Let the cherries steep for at least 5 minutes to rehydrate.
Add 2 cups of the cooked bulgur, toasted cubed bread, egg, parsley, cherries and their liquid to the large bowl. Mix to combine. Add 1 ½ cups chicken stock, toss to coat. Mixture should be quite wet, add more stock if needed. Gently fold in crumbled goat cheese. Season with salt and pepper to taste.
Transfer mixture to a buttered baking dish (8 x 8) and bake uncovered for approximately 45 minutes. Remove from oven and let rest 15 minutes before serving.
Other Recipes That You Might Like