Clinton Kelly's Cranberry-Apple Cobbler
A Sweet Treat for Fall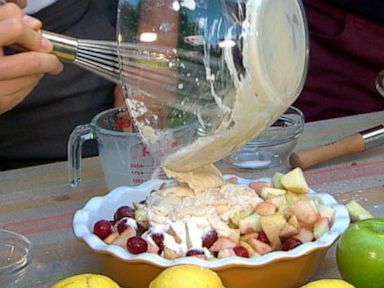 From the kitchen of The Chew's Clinton Kelly
|
Impress your dinner guests with this easy-to-make and delicious dessert recipe for cranberry-apple cobbler from the new cookbook, "The Chew: What's for Dinner?"
Ingredients
For the filling:
5 Granny Smith apples, peeled and chopped
1 Cup Cranberries
¼ Cup White Sugar
¼ Cup Brown Sugar
½ Teaspoon Ground Cinnamon
1/8 Teaspoon nutmeg
2 Teaspoons cornstarch
Juice of 1 lemon
Generous pinch of salt
For the topping:
¾ Cup Milk
1 Cup All Purpose flour
½ Cup Sugar
2 Teaspoons baking soda
2 pinches of salt
8 Tablespoons butter
Cooking Directions
To Make the Cobbler Filling:
Preheat the oven to 350 degrees.
In a large bowl, toss together all the ingredients for the cobbler filling.
To Make the Cobbler Topping:
In a separate bowl, whisk together the topping ingredients.
Put the butter in the pie dish and place in the oven until melted. Remove the dish from the oven and fill with the fruit mixture. Pour the cobbler topping over the fruit.
Bake for approximately 1 hour, or until the juices are bubbling and the cobbler is golden. Tent with foil if the cobbler is getting too brown.
Cook Time: 1 Hour
Prep Time: 20 minutes
Reprinted with permission from "The Chew: What's for Dinner?: 100 Easy Recipes for Every Night of the Week."
This recipe was styled by chef Karen Pickus for Good Morning America.
Other Recipes That You Might Like