Crock-Pot Ladies' Crock-Pot Coca-Cola Chili
Cooking with Coca-Cola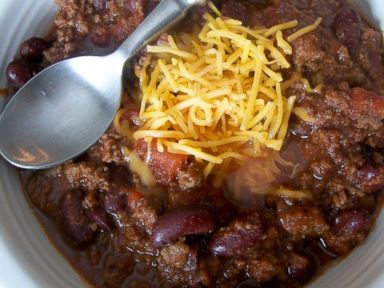 From the kitchen of Crock-Pot Ladies
We've all heard of adding Coca-Cola to cake mixes and meat marinades. But it turns out America's popular soda drink can be used for so much more. Try it in chili here with Crock-Pot Ladies' recipe for Crock-Pot Coca-Cola Chili.
Ingredients
1.5-2lbs Ground Beef, cooked and drained
1/2 Teaspoon Salt
2 tablespoons Onion Powder
1 Tablespoon Chili Powder
2 Teaspoons Ground Cumin
1/2 Teaspoon Black Pepper
2 Teaspoons Cocoa
2 13.5oz Cans Kidney Beans, rinsed and drained
1 6oz Can Tomato Paste
1 13.5oz Can Tomato Sauce
1 Cup of Cola
Cooking Directions
Brown and drain hamburger on the stove. Add hamburger and all remaining ingredients EXCEPT beans to a bowl.
Using a blender or an immersion blender, blend the ingredients together. Add this to the crock-pot. Add in the 2 cans of drained and rinsed Kidney Beans.
Cook on low for 6 hours. Serve.
Recipe Summary
Main Ingredients: coca-cola, ground beef, kidney beans, tomato paste, tomato sauce
Course: Main Course