The Cuban
A Crispy Sandwich With Ham, Mortadella and Swiss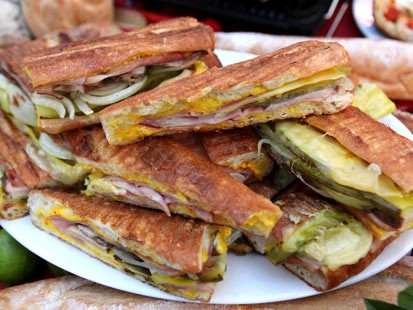 From the kitchen of Emeril Lagasse
Try Emeril's Cuban sandwich recipe. Made with coriander-seasoned pork and swiss cheese, this isn't your average ham and cheese.
Ingredients
2 teaspoons ground cumin
1 teaspoon kosher salt
1 teaspoon ground coriander
1/2 teaspoon freshly ground black pepper
Grated zest of 1 lime
1 pound pork tenderloin, trimmed of any fat or tough membranes
1 tablespoon olive oil
4 pinches saffron threads (optional)
1 teaspoon water, if using saffron
1 cup mayonnaise, homemade or store-bought
1 tablespoon minced garlic
1 loaf Cuban or French bread, about 24 inches long
4 thin slices ham (about 4 ounces)
4 thin slices mortadella (about 4 ounces)
1/2 cup thinly sliced onion rounds
8 slices dill pickle "stackers"
8 thin slices Swiss cheese (about 8 ounces)
4 tablespoons (1/2 stick) unsalted butter
Cooking Directions
Position an oven rack in the center and preheat the oven to 400°F. In a small bowl, combine the cumin, salt, coriander, black pepper, and lime zest, and stir to mix well; season the tenderloin with the spice mixture.
Heat the olive oil in a 12-inch ovenproof skillet over high heat. Add the pork and sear it on all sides, about 5 minutes total. Transfer the skillet to the oven and roast for about 15 minutes, or until the thickest part of the tenderloin registers 145°F on an instantread thermometer. Transfer the pork to a small cutting board, let it rest for at least 10 minutes, and then slice it crosswise into ¼-inch-thick slices.
If using, crumble the saffron into a small bowl. Add the water and let sit for about 5 minutes. Place the mayonnaise in a small bowl. Add the saffron-water mixture, if using, and the garlic, and stir to combine. Using a serrated knife, halve the loaf of bread lengthwise. Remove and discard some of the dense bready portion from one side, leaving about 1/2 inch of thickness. Leave the other half intact.
Generously spread the mayonnaise along both halves of the loaf. On the bottom half, layer the ham, mortadella, and pork tenderloin. Spread an even layer of sliced onion on top of the pork; then layer the pickle slices and Swiss cheese. Top with the other half of the bread, and press to close. Cut the loaf into 4 sandwiches. Heat a medium nonstick skillet or griddle over medium heat, and add 1 tablespoon of the butter. Place 1 sandwich in the skillet and firmly press the top of the sandwich using a large metal spatula or a weighted sandwich press. Cook until browned, about 3 minutes. Using the spatula, turn the sandwich over and cook for 3 minutes longer, or until golden brown, pressing with the spatula to flatten it. Remove to a plate and keep warm.
Repeat with the remaining sandwiches and butter. Serve the sandwiches warm.
This recipe was styled by chef Karen Pickus for Good Morning America.
Recipe courtesy Emeril Lagasse, from Emeril's Kicked Up Sandwiches: Stacked with Flavor, Harper Collins publisher, New York, 2012, copyright MSLO, Inc., all rights reserved
Recipe Summary
Main Ingredients: cumin, coriander, mortadella, ham, french bread
Course: Party Platter, Lunch
More Info: Kid Friendly