Emeril Lagasse's Cuban-Style Roast Pork
Try this dish!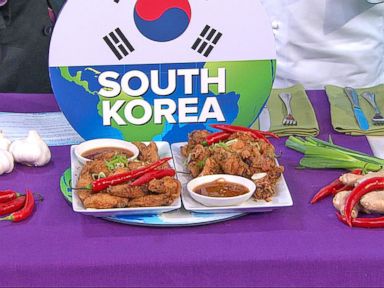 Lagasse is live in Times Square to share dishes from his travels for "Eat the World," an original, unscripted docu-series that follows the chef on a global culinary journey.
From the kitchen of Emeril Lagasse
Emeril Lagasse is traveling the world for his new show, "Eat the World With Emeril Lagasse." The chef is joined by friends from Mario Batali to Marcus Samuelsson as he searches for the best local foods in the six-episode Amazon series. Lagasse appeared on "Good Morning America" today to share recipes from some of the cuisines he tasted. Try this recipe in your home!
Ingredients
One 6- to 8- pound bone-in pork shoulder roast, such as Boston butt or picnic, rinsed and patted dry
1/4 cup minced garlic
2 tablespoons kosher salt
1 1/2 teaspoons crushed dried oregano
1 teaspoon coarsely ground black pepper
1 medium yellow onion, minced
2/3 cup freshly squeezed orange juice
1/3 cup lime juice
1/3 cup lemon juice
2/3 cup olive oil
Cooking Directions
Using a fork or the tip of a paring knife, make deep incisions all over the roast. If the roast has a thick layer of fat and skin on it, score the fat with a sharp knife in a criss-cross pattern, scoring all the way into the meat layer.
In a mortar and pestle, combine the garlic, salt, oregano, black pepper, and half of the minced onion and pound to form a smooth paste. Using your hands, spread this mixture all over the outside of the roast on all sides. Transfer to a resealable plastic food storage bag and add the remaining onion, orange juice, lime juice, lemon juice and olive oil. Seal the bag tightly and turn the bag over several times to evenly distribute the marinade. Refrigerate overnight, turning occasionally.
Remove the roast from the refrigerator and allow to come to room temperature for about 1 hour. Preheat the oven to 350°F and position a rack in the center of the oven.
Transfer to a large nonreactive Dutch oven with a tight-fitting lid (or a roasting pan just large enough to hold the roast and cover with aluminum foil.) Place in the oven and bake, covered and undisturbed, for 4 hours, or until the meat is fork-tender. Remove the lid and continue cooking until the roast is golden brown on top, 30 minutes and up to 2 hours longer. The meat should pull apart easily. Discard the bone and any excess fat and pull the meat into shreds.
Skim any excess fat from the top of the drippings in the pan, and then drizzle the meat with the remaining pan juices.
Recipe courtesy Emeril Lagasse, copyright MSLO, Inc., all rights reserved.
Food styling by Karen Pickus for "Good Morning America."
Recipe Summary
Main Ingredients: pork shoulder roast, orange juice, garlic, oregano, salt
Course: Dinner