Waffleizer's Cupcake Waffles
Waffle Wins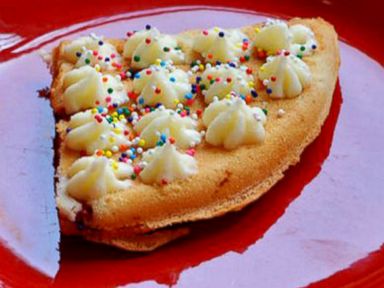 From the kitchen of Waffleizer
|
Your waffle iron is capable of so much more than you give it credit for. Let the appliance prove its worth with these Cupcake Waffles from Waffleizer.
Ingredients
10 tablespoons unsalted butter, softened
2 cups cake or all-purpose flour
1 cup sugar
4 eggs
1 teaspoon vanilla extract
2 1/2 teaspoons baking powder
1/4 teaspoon salt
3/4 cup milk
2 cup very finely chopped strawberries
Cream cheese frosting (recipe below)
Cooking Directions
With an electric mixer, cream the butter and sugar together. Beat until light, about 3 minutes. Beat in the eggs, one at a time, then the vanilla. Combine the flour, baking powder and salt. Add to the egg mixture by hand, a bit at a time, alternating with milk. Stir until just smooth. Fold in the strawberries.
Waffle until cooked, about 2 to 3 minutes, though waffling time will vary according to your waffle maker. The waffles will be quite soft when removed, but will firm up as they cool. Top with cream cheese frosting (recipe below).
Note: The waffled cupcakes can be made ahead of time and frozen. Bring back to room temperature before decorating.
Cream cheese frosting
1/2 cup (1 stick) unsalted butter, softened
6 ounces cream cheese, room temperature
1 cup + 2 tablespoons confectioners' sugar, sifted
1/2 teaspoon vanilla extract
With an electric mixer, beat butter and cream cheese on medium-high speed until fluffy, about 2 minutes. Reduce the speed and add sugar in three batches. Add vanilla. Mix until smooth, scraping down the sides of the bowl as necessary. The frosting can be stored in the refrigerator, covered, for a few days. When ready to use, bring to room temperature and beat on low speed until smooth again.
Recipe courtesy Dan Shumski, Waffleizer blogger and author of the upcoming Will It Waffle?
Other Recipes That You Might Like