Emeril Lagasse's Curried Pumpkin Soup
A Twist On A Fall Favorite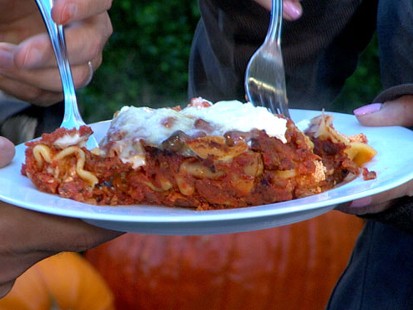 The world-famous chef has just published his 18th cookbook, "Emeril's Cooking With Power."
From the kitchen of Emeril Lagasse
Emeril Lagasse is known for bringing his signature "Bam!" to your dinner table and now, the celebrity chef is upgrading slow-cooker fare. In his new book, "Cooking with Power," Lagasse shares 100 delicious dishes to make in a slow cooker or pressure cooker. Try his curried pumpkin soup at your next family dinner.
Ingredients
2 tablespoons ghee (see Note, page 84), clarified butter, or unsalted butter
1 large yellow onion, minced
1½ tablespoons minced fresh ginger
1 tablespoon minced garlic (2 to 3 large cloves)
2 fresh red Thai chiles, thinly sliced crosswise
2 teaspoons cumin seeds
2 teaspoons black mustard seeds
1 teaspoon ground turmeric
½ teaspoon curry powder
2 pounds peeled, seeded, and coarsely chopped cooking pumpkin, such as kuri, or butternut squash (1-inch pieces)
1 tablespoon plus 1 teaspoon kosher salt
One 13.5-ounce can unsweetened coconut milk or coconut cream
Freshly squeezed juice of 1 orange (about 1/3 cup)
2 tablespoons light brown sugar
3½ cups water
1 cup plain Greek-style yogurt
Grated zest of 1 lime
Fresh cilantro sprigs or coarsely chopped fresh cilantro leaves, for garnish
Cooking Directions
Set a 6-quart pressure cooker to the "browning" program and add the ghee, onion, ginger, garlic, chiles, cumin seeds, mustard seeds, turmeric, and curry powder. Cook, stirring occasionally, until the onion is very soft and the spices are fragrant, 4 to 6 minutes. Add the pumpkin, salt, coconut
milk, orange juice, brown sugar, and water. Close and lock the lid, and set to "low pressure" for 3 minutes.
Once the cooking is complete, open the pressure release valve and allow the steam to escape. Unlock and carefully open the lid. The pumpkin should be very tender; if it is not, continue to cook under pressure for 1 minute longer. Stir well, and adjust the seasoning if necessary.
The soup can be served immediately or refrigerated and gently reheated up to 1 week later. It will thicken upon sitting.
When you are ready to serve the soup, combine the yogurt and lime zest in a small bowl. Serve the soup garnished with a dollop of the lime yogurt and a sprig or sprinkling of cilantro.
This recipe was styled by chef Karen Pickus for Good Morning America.
Recipe courtesy Emeril Lagasse, from Emeril's Cooking with Power: 100 Delicious Recipes Starring Your Slow Cooker, Pressure Cooker, and Deep Fryer, HarperCollins Publisher, 2013, copyright MSLO, Inc., all rights reserved
Recipe Summary
Main Ingredients: curry powder, pumpkin, coconut milk, orange, water
Course: Soup