Wolfgang Puck's CUT Beet Salad
Try this flavorful salad!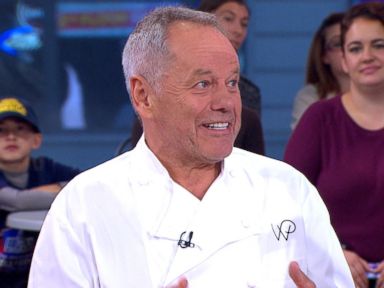 The acclaimed chef and restaurateur visits Times Square to discuss "CUT," his new Manhattan eatery, and he prepares a delectable porterhouse steak and other savory treats!
From the kitchen of Wolfgang Puck
Chef Wolfgang Puck has brought his Beverly Hills-based CUT steakhouse to New York City with a new CUT inside the Four Seasons Hotel Downtown. CUT is known for its prime steaks and sides. Puck appeared on "Good Morning America" today to share the recipes behind some of CUT's most popular dishes. Try this recipe in your own kitchen!
Ingredients
3 ea Golden Baby Beet
3 ea Red Baby Beet
3 ea Striped Baby Beet
2 T Kosher Salt
1 Sprig Rosemary
1 ea Bay leaves
1 ea sprig thyme
1 tsp Sea Salt
1/2 tsp Black Pepper finely Ground
2 T Tuscan Olive Oil
2 T Greek Yogurt
2 T Toasted Pistachios (Crushed)
1 Blood Orange (Segmented)
1 T Torn Mint
1 T Micro Basil
Fluer de Sel
Aged Balsamic
Cooking Directions
Mix beets with olive oil and season with salt and pepper.
On a sheet pan with parchment paper, place herbs and place the beets on top.
Place in 450 degree still oven for 45-60 minutes. The beets should be al dente. Once cooked remove from oven and peel them while hot. Cut in quarters and marinate olive oil, salt & pepper.
Place yogurt on plate, align beets in a straight line down center of plate. Place blood orange segments in between beets. Garnish beets with crushed pistachios, aged balsamic and herbs.
Recipe styled by Karen Pickus, chef/food stylist, "Good Morning America."
Recipe by Wolfgang Puck, CUT restaurant; Reprinted with permission.
Recipe Summary
Main Ingredients: golden baby beet, olive oil, greek yogurt, toasted pistachios
Course: Appetizer/Starter, Salad