Wolfgang Puck's CUT Butter Lettuce Salad
Try this recipe from Puck's famed steakhouse!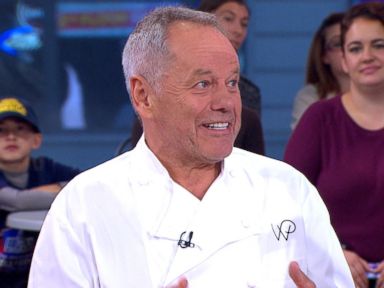 The acclaimed chef and restaurateur visits Times Square to discuss "CUT," his new Manhattan eatery, and he prepares a delectable porterhouse steak and other savory treats!
From the kitchen of Wolfgang Puck
Chef Wolfgang Puck has brought his Beverly Hills-based CUT steakhouse to New York City with a new CUT inside the Four Seasons Hotel Downtown. CUT is known for its prime steaks and sides. Puck appeared on "Good Morning America" today to share the recipes behind some of CUT's most popular dishes. Try this recipe in your own kitchen!
Ingredients
2 /14 each Avocado, sliced thin
2 oz Point Reyes blue Cheese, crumbled
3/4 Head Butter lettuce, washed, iced and stacked
10 each Marinated Cherry Tomatoes
2 1/2 oz Herb Vinaigrette
1/4 Cup 5 herb salad (equal parts, Parsley, Chives, Chervil, Tarragon, Celeryhearts)
1 T Micro Basil
1 T Tuscan Olive Oil
1 tsp basil oil
1/4 tsp fluer de sel
1/8 tsp black pepper, finely ground
Cooking Directions
Place sliced, fanned avocado on the plate across from one another, place 1 ½ oz of cheese across from one another and due the same with half of the marinade cherry tomatoes.
Season the avocados with fluer de sel and black pepper
Drizzle a 1/2 tablespoon of vinaigrette around the cheese and avocado.
Drizzle a 1/2 tablespoon olive oil around and drizzle 1 tsp around
Position the lettuce cups in the center of the plate, using the cheese, tomato and avocado as a trip pod to hold.
Put the remaining cherry tomatoes and cheese in the center cup of the lettuce stack along with 1 oz. herb vinaigrette.
Drizzle the remaining evo over the salad.
Sprinkle the Herb Salad, micro basil and a little fresh grated black pepper over the head of lettuce
Recipe styled by Karen Pickus, chef/food stylist, "Good Morning America."
Recipe by Wolfgang Puck, CUT restaurant; Reprinted with permission.
Recipe Summary
Main Ingredients: butter lettuce, avocado, point reyes blue cheese, champagne-herb vinaigrette
Course: Appetizer/Starter, Dinner, Lunch, Salad