Wolfgang Puck's CUT Maine Lobster & Maryland Blue Crab "Louis" Cocktail
Try this recipe from Puck's famed steakhouse!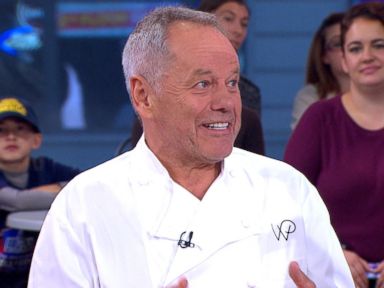 The acclaimed chef and restaurateur visits Times Square to discuss "CUT," his new Manhattan eatery, and he prepares a delectable porterhouse steak and other savory treats!
From the kitchen of Wolfgang Puck
Chef Wolfgang Puck has brought his Beverly Hills-based CUT steakhouse to New York City with a new CUT inside the Four Seasons Hotel Downtown. CUT is known for its prime steaks and sides. Puck appeared on "Good Morning America" today to share the recipes behind some of CUT's most popular dishes. Try this recipe in your own kitchen!
Ingredients
2 oz Crab Meat, picked through for bones
2 oz Lobster, cut into large dice
1 1/2 + 1 tablespoons Thousand Island dressing
Sugar
Salt
Black Pepper
Lemon Juice
1/3 cup avocado, finely diced
1/4 cup 5 herb Salad
1/4 cup micro greens
1/4 red endive, cut in half, core removed and julienned
1 teaspoon Tuscan olive oil
2 tablespoon cocktail sauce
1/4 teaspoon basil oil
Cooking Directions
In a small bowl mix shrimp with 1 1/2 tablespoons Thousand Island dressing and a few drops of lemon juice.
Adjust seasoning with salt, pepper and sugar.
Gently fold crab meat into this mixture. Place ring mold in center of 12" round plate.
Layer in the diced avocado and then shrimp/crab mixture.
Drizzle 1 tablespoon cocktail sauce on top of tower. Remove ring mold. In a medium bowl, mix micro greens, herb salad and endive with olive oil. Place the greens in a tight pile on top of tower.
Equal distant around plate place 5 small dots of Cocktail Sauce half the size of a nickel on the plate.
In a circle connecting all of the dots drizzle a thin line of olive oil. Then drizzle basil around the plate on top of the olive oil.
Recipe styled by Karen Pickus, chef/food stylist, "Good Morning America."
Recipe by Wolfgang Puck, CUT restaurant; Reprinted with permission.
Recipe Summary
Main Ingredients: crab meat, lobster, avocado, micro greens, cocktail sauce
Course: Appetizer/Starter, Dinner