Wolfgang Puck's CUT Porterhouse for Two
Try this delicious dish!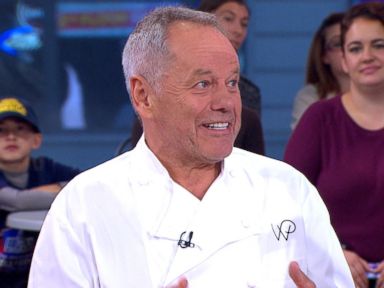 The acclaimed chef and restaurateur visits Times Square to discuss "CUT," his new Manhattan eatery, and he prepares a delectable porterhouse steak and other savory treats!
From the kitchen of Wolfgang Puck
Chef Wolfgang Puck has brought his Beverly Hills-based CUT steakhouse to New York City with a new CUT inside the Four Seasons Hotel Downtown. CUT is known for its prime steaks and sides. Puck appeared on "Good Morning America" today to share the recipes behind some of CUT's most popular dishes. Try this recipe in your own kitchen!
Ingredients
1 ea 34 oz Porterhouse
2 T Olive Oil
2 T Kosher Salt
2 T Cracked Black Pepper
4 ea Garlic Clove
3 ea Sprigs Thyme
4 T Butter
1 T fluer de sel
Cooking Directions
Remove steak from refrigerator and allow to rest for at least 25 minutes.
Season meat with salt, pepper & olive oil. Place steak on grill and char for 10-12 minutes on each side until caramelized evenly.
Warm garlic and thyme in butter, set aside.
Allow steak to rest for 5-10 minutes before carving, season with fluer de sel and black pepper.
Recipe styled by Karen Pickus, chef/food stylist, "Good Morning America."
Recipe by Wolfgang Puck, CUT restaurant; Reprinted with permission.
Recipe Summary
Main Ingredients: porterhouse, olive oil, butter
Course: Dinner