Daniel Humm's Asparagus Salad with Quinoa
A Beautiful and Healthy Salad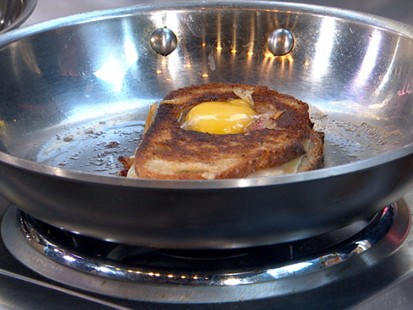 Daniel Humm, master chef at NYC's NoMad restaurant, prepares recipes from his new cookbook.
From the kitchen of Daniel Humm
|
Try this beautiful and delicious asparagus salad and quinoa recipe from Daniel Humm's new cookbook, "I Love New York."
Ingredients
For the quinoa:
1 cup red quinoa, rinsed
3 tablespoons Lemon Vinaigrette (page 500)
2 tablespoons sliced chives
1 tablespoon finely diced (1/8 inch) shallot
Salt
For the asparagus vinaigrette:
1 tablespoon butter
2 cups chopped asparagus
1 tablespoon tomato paste
1/4 cup red wine vinegar
4 cups Chicken Stock (page 499)
Salt
To finish:
4 eggs
20 asparagus
Lemon Vinaigrette (see page 500)
Chervil sprigs
Chive tips and flowers
Tarragon sprigs
6 ounces lardo, at least 8 thinly sliced pieces
Cooking Directions
For the quinoa:
Bring a medium saucepan of salted water to a boil. Add the quinoa and boil until tender, 25 to 30 minutes. Drain and cool to room temperature, fold in the vinaigrette, chives, and shallot, and season with salt to taste.
For the asparagus vinaigrette:
In a medium sauté pan, melt the butter over medium-high heat until it begins to foam. Add the asparagus and cook until caramelized, 6 to 7 minutes. Add the tomato paste and continue cooking while stirring frequently, 1 to 2 minutes. Deglaze the pan with the vinegar, add the stock, and raise the heat to high. Reduce the liquid by two-thirds, to 11/3 cups, skimming frequently. Strain the liquid through a chinois and return to the pan, discarding the asparagus. Continue reducing until there is only about 1/3 cup of liquid remaining. Remove from the heat and strain again through a chinois. Season with salt to taste.
To finish:
Place the eggs in a small saucepan, cover with cold water, and bring to a boil over high heat. Immediately remove from heat, cover, and let stand for 7 minutes. Quickly transfer the eggs to ice water to cool. Cut the asparagus down to 5-inch spears, discarding the woody bottoms. Peel the bottom half of each spear. Bring a saucepan of salted water to a boil. Add the asparagus and blanch until tender, 4 to 5 minutes. Transfer to a bowl of ice water. When the asparagus is cool, drain and dress in lemon vinaigrette. Arrange 5 asparagus on each plate so that the spears are pointing outward from the center in alternating directions. Spoon the quinoa at the ends of the asparagus. Peel the eggs, break up 1 egg for each plate, and arrange the pieces on top of the quinoa. Arrange the chervil sprigs, chive tips and flowers, and tarragon sprigs on top of the egg. Garnish with 2 slices of lardo and finish with the asparagus
vinaigrette.
This recipe was styled by chef Karen Pickus for Good Morning America.
Recipe courtesy Daniel Humm.
Other Recipes That You Might Like