Daniel Humm's Ham and Egg Sandwich
A Tasty and Satisfying Sandwich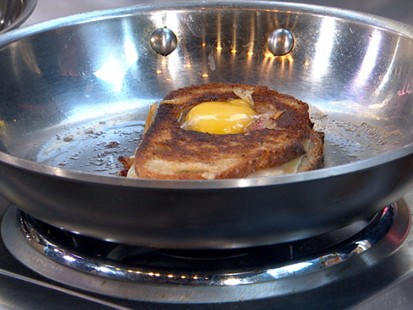 Daniel Humm, master chef at NYC's NoMad restaurant, prepares recipes from his new cookbook.
From the kitchen of Daniel Humm
Try this delicious ham and egg sandwich recipe from Daniel Humm's new cookbook, "I Love New York."
Ingredients
8 slices rye bread, 1/4 inch thick
1 pound sliced Consider Bardwell Farm Rupert cheese
(an aged raw cow's milk cheese made in the style
of Gruyère)
1 pound thinly sliced smoked ham
1/2 cup butter, at room temperature
1 tablespoon canola oil
4 eggs
Cooking Directions
Preheat the oven to 350°F. Build each sandwich by starting with a piece of bread, followed by cheese, ham, and then
more cheese. Using a 21/4-inch round cutter, punch a hole through the layers of ham and cheese and the bottom piece of bread; remove the circle of ham, cheese, and bread. Top with an unpunched slice of bread. Spread butter on both sides of the sandwiches. Heat the oil in a large cast-iron skillet over medium-low heat (use two skillets if necessary to hold all 4 sandwiches). Place the sandwiches, hole-side down, in the skillet, and reduce the heat to low. Cook until golden brown, 3 to 4 minutes. Flip the sandwiches and crack the eggs into the holes. Transfer the skillet to the oven and bake until the egg is cooked and the cheese is melted, 10 to 12 minutes.
This recipe was styled by chef Karen Pickus for Good Morning America.
Recipe courtesy Daniel Humm.
Recipe Summary
Main Ingredients: bread, butter, oil, eggs
Course: Lunch, Breakfast