Daniel Humm's Radicchio Salad with Mozzarella, Mango and Basil
Garnished With Basil Oil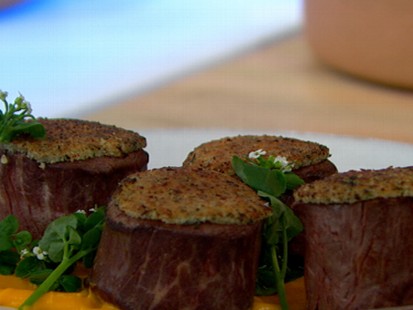 Owner of "Eleven Madison Park" prepares recipes from his cookbook of the same name.
From the kitchen of Daniel Humm
Try Daniel Humm's radicchio salad with mozzarella, mango and basil.
Ingredients
For the basil oil:
4 cups basil leaves
1 1/2 cups grapeseed oil
For the lemon vinaigrette:
1 1/2 cups lemon oil
1/2 cup lemon juice
1 tablespoon salt
To finish:
2 heads radicchio tardivo
2 mangoes, peeled and sliced into thin wedges (32 wedges total)
3 tablespoons Lemon Vinaigrette
8 buffalo mozzarella, 2 ounces each
1 1/2 teaspoons coarsely ground black pepper
1 1/2 teaspoons fleur de sel
64 small basil leaves
3 teaspoons Basil Oil
Cooking Directions
For the basil oil:
Combine the basil and oil in a blender and blend thoroughly on high speed. Transfer the mixture to a medium saucepan and cook over medium heat, whisking vigorously, until the oil reaches 220°F. Chill the oil over ice and then strain through a coffee filter.
For the lemon vinaigrette:
In a mixing bowl, whisk together the lemon oil and lemon juice. Season with the salt.
To finish:
Cut off the bottom of the radicchio and reserve the tips. They should be about 3 to 4 inches long, and you should have 112 pieces total. Place the radicchio in a mixing bowl with the mango wedges and dress with the Lemon Vinaigrette. Place a buffalo mozzarella in the center of a plate and season it with a pinch of black pepper and a pinch of fleur de sel. Arrange 4 mango wedges and 14 leaves radicchio on the plate and garnish with 8 sprigs basil. Spoon 1 teaspoon Basil Oil on the salad. Repeat with the remaining ingredients, to serve 8.
This recipe was styled by chef Karen Pickus for Good Morning America.
Recipe courtesy Daniel Humm.
Recipe Summary
Main Ingredients: basil, radicchio, mozzarella, mango, basil
Course: Salad