Danny Boome's Skillet Fried Potatoes
Better Than French Fries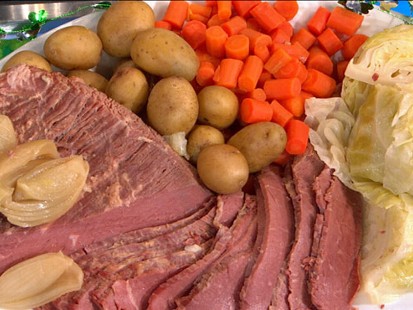 The "Rescue Chef" host cooks Irish corned beef on "GMA."
From the kitchen of Danny Boome
These potatoes crisp up nicely in a saute pan. Add the garlic and dill for a delicious combination.
Ingredients
2 to 3 tablespoons vegetable oil
1 large onion, quartered, thinly sliced
1 medium clove garlic, finely minced
6 medium red-skinned potatoes, cut in 1/2-inch dice
1 teaspoon dill
4 scallions sliced
1/2 to 1 teaspoon salt, or to taste
Freshly ground black pepper, to taste
Cooking Directions
Heat oil in a large, heavy, nonstick skillet or electric skillet over medium heat. Add onion and sauté until tender.
Add garlic and cook for 1 minute longer. Add the potatoes, dill and the scallions, about 1/2 teaspoon salt, and pepper.
Cover and cook for about 10 to 15 minutes, or until potatoes are just tender. Uncover and increase heat to medium-high.
Continue cooking for about 8 to 10 minutes, turning occasionally, until nicely browned.
Recipe courtesy Danny Boome.
This recipe was styled by chef Karen Pickus for Good Morning America.
Recipe Summary
Main Ingredients: onion, garlic, potatoes, dill, scallions
Course: Side Dish
More Info: Kid Friendly