Daphne Oz's Avocado Toast with Harissa
A Satisfying Snack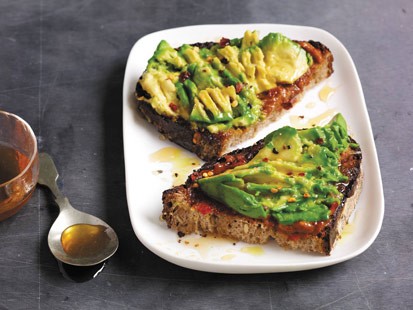 From the kitchen of Daphne Oz
Harissa is a delicious chile paste traditionally used to spice up Moroccan dishes. It adds exotic flair and a mild-to-killer heat (depending on the chiles you get!) that pair beautifully with creamy avocado in this sweet-and-savory easy breakfast toast.
Ingredients
1 slice Honey Whole-Wheat Bread or your favorite whole-grain bread
1/2 tablespoon Harissa Paste (optional; recipe follows)
1/2 ripe avocado
1 teaspoon olive oil
1 teaspoon honey
Sea salt
Dried chile flakes
For the harissa paste:
9 dried red chile peppers, seeded and stemmed (ancho for a mild heat; chile de arbol for fire-breathers)
3 garlic cloves, peeled
1 teaspoon ground coriander
1 teaspoon ground cumin
1 teaspoon iodized salt
1/4 cup olive oil plus extra for storing
Cooking Directions
Toast the bread. Spread it with the harissa, if desired, and mash the avocado on top. Drizzle with the oil and honey and top with a pinch of sea salt and chile flakes.
For the harissa paste:
Soak the dried chiles in hot water for 45 minutes. Drain and remove the stems and seeds; squeeze out the extra water. Use a food processor or blender (or mortar and pestle if you're feeling brawny) to combine the peppers, garlic, coriander, cumin, and salt. Add in the oil and blend to a smooth paste.
Store in an airtight container and top with a thin layer of olive oil to form a hermetic seal. The harissa will keep in the refrigerator for up to 1 month.
Credit: William Morrow an imprint of HarperCollins Publishers
Recipe Summary
Main Ingredients: bread, coriander, avocado, chile
Course: Dinner