Daphne Oz's Banana-Pecan Buttermilk Pancakes
Go-To Sunday Breakfast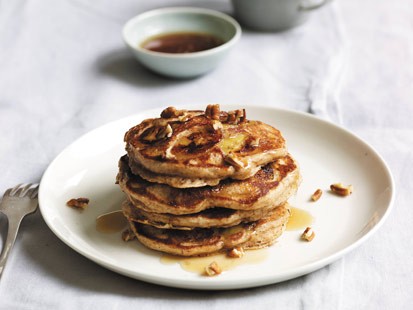 From the kitchen of Daphne Oz
Every Sunday during our family summers up in Maine, we would spend the morning feasting on pancakes. Sometimes we made them with heaping handfuls of wild Maine blueberries, but the sweet caramel of bananas and buttery pecans has always been my favorite. My mom would get up early to get the batter started, and by the time my siblings and I came down, there would be perfect cakes lining the griddle. We piled them high, poured on the maple syrup, and then went back for seconds . . .
Ingredients
3/4 cup pecans, toasted, plus more for garnish
1 3/4 cups whole-wheat flour
1/2 cup all-purpose flour
2 tablespoons sugar
2 tablespoons baking powder
1/4 teaspoon iodized salt
4 tablespoons ground flaxseed (optional)
3 large eggs
4 tablespoons (1/2 stick) unsalted butter, melted, plus more for the pan
1 cup milk, whole or 2%
1 1/2 cups buttermilk (see Note)
1 teaspoon pure vanilla extract
3 large ripe bananas, sliced into 1/4-inch-thick rounds (reserve some for garnish)
Buttered Maple Syrup (recipe follows)
For the buttered maple syrup:
1 1/2 cups pure maple syrup
4 tablespoons (1/2 stick) butter
2 ounces bourbon whiskey (optional)
Cooking Directions
Note: If you don't have buttermilk, simply add 1 tablespoon white distilled vinegar or lemon juice to 1-cup measure and complete the cup with whole or 2% milk to yield 1 cup "buttermilk"! Let stand for 5 minutes and then use as needed.
Preheat the oven to 200°F and place a cooling rack on a baking sheet.Finely grind ½ cup of the pecans in a food processor, or chop them to a fine powder. Coarsely chop the remaining ¼ cup pecans and reserve. Transfer the ground pecans to a large bowl. Add the flours, sugar, baking powder, salt, and flaxseed (if using) and whisk until combined.
In a medium bowl, whisk the eggs, butter, milk, buttermilk, and vanilla until frothy. Pour the wet ingredients into the dry ingredients and stir until just combined (don't overmix or your pancakes won't rise properly). Fold the reserved ¼ cup of chopped pecans into the batter.
Heat a griddle or large skillet over medium heat. Brush the griddle with butter; keep the surface buttered well throughout cooking to prevent the bananas from sticking. Pour ¼ cup of the batter onto griddle for each pancake. Lay about 5 banana slices onto each pancake and cook until small bubbles form and pop on the surface and the bottom is golden brown. Flip the pancakes and cook until golden brown, 6 to 8 minutes.
Place the pancakes on the cooling rack on top of the baking sheet and keep them warm in oven until ready to serve. Drizzle with Buttered Maple Syrup and garnish with bananas and pecans. Serve warm.
For the buttered maple syrup:
In a small saucepan, warm the syrup and butter over medium-low heat; whisk to combine. If desired, stir in bourbon to give these pancakes an adult zing!
D ASH
• Start in one spot and lift your spoon or ladle up as you pour over the same spot to form well-shaped circles.
• Flip the pancakes only once so that they stay light and fluffy.
• Store your pancakes in the oven on a cooling rack over a baking sheet to keep the pancakes from steaming.
Credit: William Morrow an imprint of HarperCollins Publishers
Recipe Summary
Main Ingredients: pecans, flour, sugar, baking powder
Course: Breakfast