Daphne Oz's Deliteful Philly Cheese Steak
The Traditional Meal Without the Guilt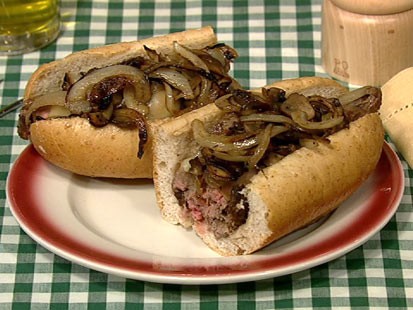 From the kitchen of Daphne Oz
Ingredients
1 1/2 Lb Flank Steak
Salt and Pepper
5 Tbsp Olive Oil, separated
2 Onions, sliced thinly
1/2 Lb Mushrooms
8 slices Mozzarella
4 Whole Wheat Buns
Mayonnaise, for buns
Cooking Directions
Preheat a grillpan to medium-high heat. Drizzle the flank steak with about 3 tablespoons olive oil on either side and season generously with salt and pepper. Grill on 5-6 minutes per side for medium-rare. Set aside to rest.
Meanwhile, heat two tablespoons olive oil over medium heat and add the onions and mushrooms. Season and then sauté, allowing the mushrooms to release their liquid and for onions to soften, about 8 to 10 minutes.
Preheat a griddle to medium-high heat. Toast buns on griddle, spread with mayonnaise. Slice steak and divide into 4 piles on the griddle, top with two cheese slices to warm through and melt the cheese. Transfer each mound into a toasted bun and top with some of the onions and mushrooms. Top with your favorite condiments like hot sauce of worchestshire sauce.
Recipe courtesy The Chew.
Recipe Summary
Main Ingredients: steak, onions, mushrooms, mozzarella
Course: Dinner, Lunch, Party Platter
More Info: Kid Friendly