Daphne Oz's Ginger-Glazed Carrots
A Healthy and Delicious Side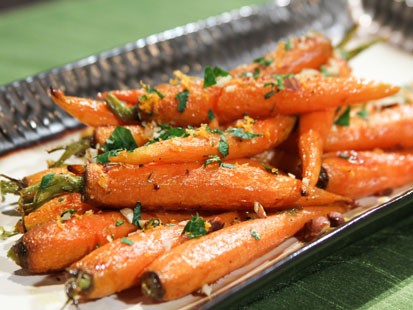 From the kitchen of Daphne Oz
|
Ingredients
1 1/2 pounds baby carrots, peeled and trimming the greens,
leaving about 1 inch of the green tops
1/2 cup ginger ale
2 garlic cloves, smashed
2 oranges, zested and juiced, divided
1 tablespoon ginger, finely minced
1/4 cup parsley, chopped and divided
1/4 cup hazelnuts, toasted and chopped
olive oil
salt and freshly cracked black pepper
Cooking Directions
Preheat the oven to 400 degrees F. In a large bowl, toss the carrots with 4-5 tablespoons of the olive oil and season generously with salt and pepper. Zest the orange over the carrots, squeeze the juice, add the garlic cloves and toss to coat.
Pour the carrots out into a large saute pan that has been heating over medium high heat. Arrange in an even layer.
Pour in the ginger ale and cook the carrots on the stove top until they begin to color. Then transfer to the oven and cook for about 25-30 minutes, or until fork tender.
Once the carrots are cooked and the glaze is reduced, remove from the oven and allow to cool slightly. Meanwhile, in a small bowl, mix together the remaining orange zest, juice, ginger, hazelnuts, parsley, salt and pepper. Garnish the carrots with the hazelnut mixture.
Recipe courtesy "The Chew."
Other Recipes That You Might Like