Daphne Oz's Moo Shu Vegetables
Healthy and Delicious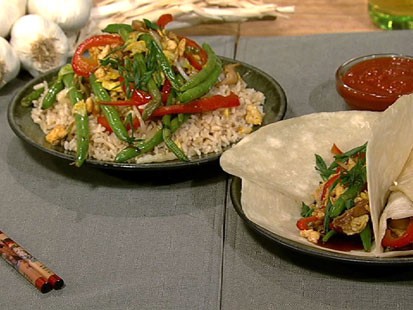 From the kitchen of Daphne Oz
Ingredients
3 eggs, lightly beaten
1 pound green beans, trimmed and cut into 2-inch pieces
1 red bell pepper, cut into thin strips
2 cups Napa cabbage, shredded
1 cup Shiitake mushrooms, sliced thin
6 scallions, sliced thin
2 cloves garlic, sliced thin
1 cup bean sprouts
1 teaspoon toasted sesame oil
1 tablespoon coconut oil
Salt
2 shredded carrots
For the sauce:
2 tablespoon low sodium soy sauce
2 tablespoon rice vinegar
1 tablespoon mirin
2 tablespoon ginger, grated
To serve:
1/4 cup hoisin sauce
12 Chinese pancakes
Thai red chili sauce
Cooking Directions
Heat a large skillet or wok over medium heat. Quickly scramble the egg, then remove to a plate and reserve.
Clean the skillet or wok, and heat the toasted sesame oil and vegetable oil over medium-high heat. Add the green beans, red bell pepper, cabbage, shredded carrots, mushrooms, scallions, bean sprouts and garlic. Season with salt and toss, stir-frying for 2 minutes. Cover.
Mix together the soy sauce, rice vinegar, mirin, and ginger. Uncover the vegetables, and add the sauce, tossing to mix well. Cook for an additional 1-2 minutes, until vegetables are tender. Add the reserved egg, tossing everything together, and remove from heat and transfer to a serving bowl. To serve, spread hoisin sauce down the middle of the pancake, and top with a generous amount of vegetable. Garnish with thai red chili sauce if desired.
Recipe courtesy "The Chew."
Recipe Summary
Main Ingredients: eggs, green beans, carrots, soy sauce
Course: Vegetable