Daphne Oz's Peach Maple Sherbet Sandwiches
Summer and Fall Flavors in One Sweet Sandwich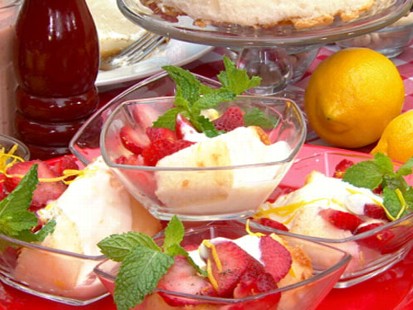 "The Chew" co-host whips up some delicious summer treats.
From the kitchen of Daphne Oz
We love the unexpected combination of fresh summer peaches and maple syrup. Homemade sherbet is made with almond milk for a low-fat, cool treat.
Ingredients
Ingredients for the cookies:
1/2 - 3/4 cup coconut oil
1/4 cup maple syrup
1 1/2 cup whole wheat flour
1/2 cup ground oats
1/2 teaspoon salt
1/2 teaspoon cinnamon
1/2 teaspoon vanilla
For the sherbet:
3 cups fresh or frozen peaches
1 1/3 cup almond milk (plus more if needed)
2 tablespoons maple syrup
Cooking Directions
For the cookies:
Heat oven to 350F.
In a medium bowl combine all dry ingredients. Slowly add coconut oil and maple syrup, mixing to combine. Finish with the vanilla. Form into disk and place in refrigerator for 30 minutes.
Roll dough out to 1/4 inch thick. Using a cookie cutter, cut out 3 inch rounds. Place on parchment lined baking sheet. Bake for 15-20 minutes. Allow the cookies to cool.
For the filling:
Using a blender, combine the sherbet ingredients and blend until smooth. Pour into a freezer-safe container and freeze for two hours or until set.
When ready to assemble sandwiches remove sherbet from freezer and cut away container. Using the same cookie cutter used with the dough cut through the sherbet to make a matching sized cylinder. Next slice sherbet and sandwich each slice in between two cookies. Arrange sandwiches on a sheet tray and refreeze until set.
Recipes courtesy Daphne Oz.
This recipe was styled by chef Karen Pickus for Good Morning America.
Recipe Summary
Main Ingredients: peaches, almond milk, coconut oil
Course: Dessert