Daphne Oz's Shrimp and Vegetable Skewers
Healthy and Satisfying Meal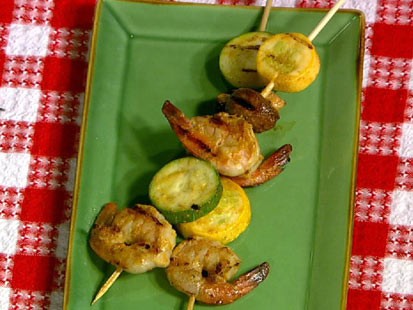 From the kitchen of Daphne Oz
Ingredients
For the marinade:
1/2 cup fresh lime juice
1/2 cup olive oil
1/2 cup toasted sesame seeds
1/2 cup water
3 cloves garlic, sliced
1 bunch scallions, sliced, white and green parts
1 tbsp ginger, minced
1 tbsp low sodium soy sauce
1 tsp maple syrup
1 tsp cayenne
For the skewers:
1 lb large shrimp
1 yellow squash, sliced into rounds
1 zucchini, sliced into rounds
1 red bell pepper, chopped
8 mushrooms, halved and trimmed
Cooking Directions
Soak the skewers in cold water for 30 minutes.
Combine the marinade ingredients in a blender, and blend time smooth.
When cutting the skewer ingredients, match the size of the vegetables to roughly the size of the shrimp, so that they cook evenly. Divide the marinade into two batches and put the vegetables into one batch, and the shrimp into another. Allow them to marinate for 30 minutes. Discard the marinade from the shrimp, and reserve the vegetable marinade.
Preheat grill or grillpan to medium-high.
Thread alternating ingredients onto the skewers, and grill, rotating every two minutes, until the shrimp are pink and firm, about 8 minutes. Allow to cool slightly before serving.
Recipe courtesy The Chew.
Recipe Summary
Main Ingredients: lime, olive oil, maple syrup, cayenne
More Info: Kid Friendly, Low Saturated Fat