Sprinkles' Dark Chocolate Halloween Cupcakes
Try This Halloween Treat!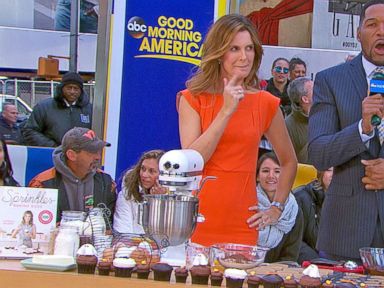 In her first cookbook, the pastry chef shares 100 of her favorite recipes - including one from the kitchen of "GMA" co-anchor Michael Strahan!
From the kitchen of Sprinkles' Candace Nelson
Candace Nelson founded Sprinkles, America's first cupcakes-only bakery, in 2005. Now 11 years later, Nelson has opened up her recipe vault to share 100 desserts in her first cookbook. "The Sprinkles Baking Book" contains Nelson's favorte dessert recipes as well as favorites from celebrities including Michael Strahan and Reese Witherspoon. Try this decadent treat decorated for Halloween!
Ingredients
Cupcakes
1 cup all-purpose flour
2/3 cup unsweetened cocoa powder
3/4 teaspoon baking powder
½ teaspoon baking soda
½ teaspoon fine sea salt
2/3 cup buttermilk, shaken
1 teaspoon pure vanilla extract
10 tablespoons (1¼ sticks) unsalted butter, slightly softened
2/3 cup sugar
1/3 cup lightly packed light brown sugar
2 large eggs
Dark Chocolate Frosting
3/4 cup (1 1/2 sticks) unsalted butter, slightly softened
1/8 teaspoon fine sea salt
2 1/2 cups confectioners' sugar, sifted
1/4 teaspoon pure vanilla extract
6 ounces bittersweet chocolate, melted and cooled to room temperature
2 tablespoons whole milk, if necessary
Ghost Toppings
White fondant (Find online or at a cake decorating store.)
Round cutter (4-5 inches is best)
Small rolling pin
Small chocolate candies or mini chocolate chips
Blow pop, or something similarly shaped to form the ghosts
Parchment-lined baking sheet
Cooking Directions
CUPCAKES
Preheat the oven to 350°F. Line a 12-cup cupcake pan with paper liners.
In a medium bowl, whisk together the flour, cocoa powder, baking powder, baking soda, and salt. In a small bowl, stir together the buttermilk and vanilla.
In the bowl of a stand mixer fitted with the paddle attachment, beat the butter and both sugars on medium-high speed until light and fluffy, 2 to 3 minutes. Reduce the speed to medium-low, add the eggs one at a time, and beat until creamy, 1 to 2 minutes. Slowly add half the flour mixture, then the buttermilk mixture, then the remaining flour mixture, beating until just blended after each addition.
Divide the batter evenly among the liners and bake until the tops are just dry to the touch and a toothpick inserted into the center comes out clean, 18 to 20 minutes. Transfer the pan to a wire rack and cool completely before frosting with dark chocolate frosting.
DARK CHOCOLATE FROSTING
MAKES 2 CUPS
In the bowl of a stand mixer fitted with the paddle attachment, beat the butter and salt on medium speed until fluffy, 1 to 2 minutes.
Gradually add the confectioners' sugar and beat until smooth, 2 to 3 minutes.
Add the vanilla and melted chocolate and beat until just incorporated, being careful not to incorporate too much air into the frosting. Add milk 1 tablespoon at a time, if needed, to achieve a spreadable consistency.
GHOST TOPPINGS
Roll out a piece of fondant to 1/4 inch thickness on a nonstick surface, such as a marble countertop or Silpat.
Cut it into a circle with a round cutter cookie cutter pick up the fondant circle and gently place the middle of it on top of the Blow pop and let the rest of the circle drape down around it use your fingers to make floating ghost-like waves, or drapes in the fondant allow the fondant to hold that shape for a couple of minutes to set it, and then place on baking sheet to harden for a few hours once the fondant has hardened slightly.
Add chocolate candies or mini chocolate chips by dipping in water and "glueing" to the fondant ghost place fondant ghost on frosted cupcakes and enjoy!
Excerpted from the book THE SPRINKLES BAKING BOOK by Candace Nelson. Copyright 2016 by Candace Nelson. Reprinted with permission of Grand Central Life & Style. All rights reserved.
Recipe styled by Karen Pickus, chef/food stylist, "Good Morning America."
Recipe Summary
Main Ingredients: flour, cocoa powder, eggs, light brown sugar, butter, bittersweet chocolate, white fondant
Course: Dessert