David Burke Kitchen's Red, White & Blue Sundae
A Festive Dessert for the Fourth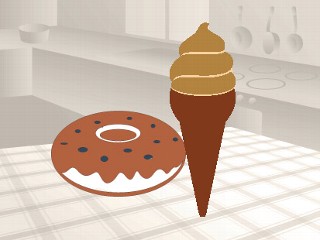 From the kitchen of David Burke
Ingredients
For the salted maple caramel:
1/2 lb. butter
1/2 tsp. salt
2 cups light brown sugar
1 cup maple syrup
For the pineapple:
1 small, ripe pineapple, peeled and cut into rings
Canola oil
2 fl. oz. bourbon
2 tbsp. salted maple caramel
For assembly:
1 cup Jersey blueberries
1 cup strawberries, hulled & quartered
2 scoops strawberry ice cream
2 scoops vanilla ice cream
1/2 cup whipped cream
Sprig of mint (optional)
Cooking Directions
For the caramel:
Melt butter in a medium saucepan over low heat. Add salt and sugar and stir to combine. When sugar is dissolved, add maple syrup and simmer for five minutes. Remove from heat.
For the pineapple:
Sauté pineapple rings in a pan with a little canola oil over low heat. As it cooks, the pineapple will begin to release juices. Add bourbon and caramel and toss with the pineapple to coat. Remove from heat.
For the assembly:
Place 3/4 of the berries in the center of a wide, shallow bowl and top with 1 ring of caramelized pineapple (save remaining rings for more sundaes!) Top pineapple with ice cream scoops, remaining berries, whipped cream and mint sprig, if using. Drizzle with salted maple caramel and serve.
Recipe courtesy David Burke Kitchen.
Recipe Summary
Main Ingredients: butter, salt, brown sugar, blueberries
Course: Dessert
More Info: Kid Friendly