David Burke's Townhouse Wedge
A Garden-Friendly Salad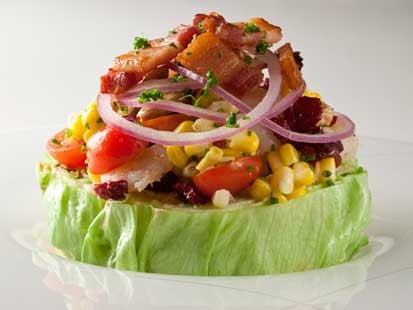 From the kitchen of David Burke
Try this tasty wedge salad from chef David Burke in honor of The International Rescue Committee's New Roots program.
The New Roots program is a "dynamic community gardening and nutrition program that enables refugees to grow, harvest and sell fresh and affordable produce while integrating into their new communities across the United States." The program turns abandoned lots into community farms that are run by refugees from some of the worst conflict areas in the world.
Burke is involved in the program and uses produce from the farms in his restaurant.
"It's a real cornucopia," he said in a release, "These gardens show how small spaces, used in this way, can have a real and positive impact on the diets of refugees and local residents in urban food deserts across the United States."
To learn more about The New Roots program and get involved, visit their site here.
Ingredients
2 heads of baby iceberg lettuce, cut in half
½ cup of bacon lardons
28 baby shrimp
4 slices of red onions
1 corn off the cob
2 tablespoons of cranberries
16 pieces of marcona almonds
3 cherry tomatoes cut in half
1 teaspoon olive oil
Russian dressing
For the Russian dressing:
½ cup shallots minced
½ cup capers chopped
½ cup Dijon mustard
2 tablespoons paprika
1 ½ qt mayonnaise
1 ½ cups ketchup
½ tablespoon celery seed
1 ½ cups white onion
½ qt water
1 ½ tablespoon old bay
Cooking Directions
For the Russian dressing.
Place all ingredients in bain-marie and buzz with hand blender till consistency. (You can create a bain-marie by placing the bowl of your ingredients on top of a bowl with hot water.)
For the salad:
Place 2 tablespoons of dressing on bottom of plate to hold wedge in place. Place ½ of an iceberg on top of dressing. Toss 1 teaspoon olive oil, corn, red onion, cherry tomatoes, almonds, cranberries and season with salt and pepper to taste, dress on top of lettuce. Sautee shrimp on medium heat for 2 minutes until cooked through and add bacon lardons until warm, place warm on top of wedge .
Recipe courtesy David Burke.
Recipe Summary
Main Ingredients: olive oil, lettuce, bacon, almonds
Course: Salad