De Pudged Pigs in a Blanket
Recipe Courtesy of Hungry Girl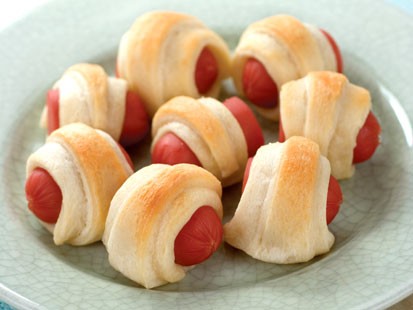 From the kitchen of Hungry Girl
Ingredients
8 fat-free or nearly fat-free franks about 45 calories each (like Hebrew National 97% Fat Free Beef Franks or Hoffy Extra Lean Beef Franks or your favorite hot dog brand)
1 package Pillsbury Reduced Fat Crescent refrigerated dough
Cooking Directions
Preheat oven to 375 degrees.
Cut each hot dog into 4 even pieces. Set aside.
Take one of the eight triangle-shaped portions of the dough and stretch or roll it out slightly, making it into a larger triangle.
Then, cut this piece of dough into four long, narrow triangles.
Beginning at the base of each of these triangles, roll one hot dog piece up in each until the point of the triangle wraps around the center. Place your blanketed pigs on a large, ungreased baking sheet. Repeat with remaining ingredients, so that you have 32 pigs in a blanket. Be sure to evenly space them, as the dough will expand while baking.
Place sheet in the oven, and cook for about 12 minutes, until dough appears slightly browned and crispy. Enjoy!
Per serving (4 pigs in a blanket): 134 calories, 5g fat, 652mg sodium, 16g carbs, 0g fiber, 3g sugars, 8g protein
Makes 8 servings
Recipe Summary
Main Ingredients: hot dogs, beef franks, dough
Course: Appetizer/Starter, Party Platter, Snack, Side Dish
More Info: Kid Friendly, Low Calorie