Tasting Table's Devils on Horseback
Game Day Grub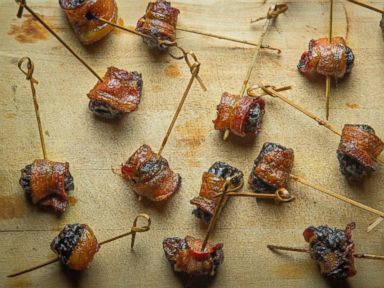 From the kitchen of Tasting Table
|
Sure, you could grab some frozen apps for your Super Bowl party. But why would you when you could make something as easy and delicious as homemade snacks from the Tasting Table test kitchen? Step up your game day grub this year with these devils on horseback--for home tailgating fun we like easy dishes that will move faster than running backs.
Ingredients
18 pitted prunes
About 2 1/2 ounces blue cheese (preferably Stilton or Gorgonzola)
6 thin slices smoked bacon (about 4 1/2 ounces total), cut crosswise into thirds
1 tablespoon maple syrup
Cooking Directions
Preheat the oven to 400 degrees F. Line a baking sheet with parchment paper.
Cut a pocket-like slit into the side of each prune. Stuff each with blue cheese, about 1/4 to 1/2 teaspoon, and squeeze the prune around and over the cheese to seal. Tightly wrap each prune with one piece of bacon, stretching it a bit if needed. Hold the bacon in place with a toothpick.
Set the prunes on the baking sheet and roast until the bacon is brown and crispy, about 20 minutes. Brush with maple syrup and return to the oven for 5 minutes more. Serve warm.
Recipe from the Tasting Table Test Kitchen.
Other Recipes That You Might Like