Diane Henderiks' Edamame Hummus
A Smooth and Savory Snack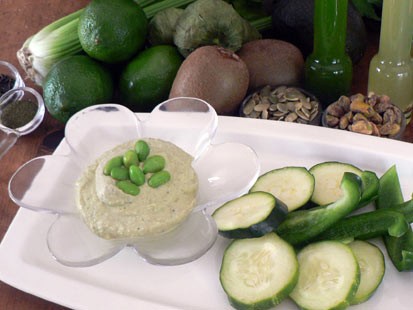 From the kitchen of Diane Henderiks
|
Diane Henderiks is on a mission to teach America how to eat well. She is a personal chef, registered dietitian, cookbook author and regular "Good Morning America" contributor. She manages two companies: Diane's Daily Dish, her personal chef service; and Diane M. Henderiks, R.D. & Associates LLC, her nutrition consulting firm. She travels the country sharing her expertise and engaging audiences at the nation's top food and wine festivals and women's events. Diane is renowned for her expertise in creating wholesome cuisine that is both delicious and nutritious. www.dishwithdiane.com
Ingredients
2 cups fresh, shelled edamame
2T tahini paste
1 garlic clove, chopped
juice of 1 lemon
Water, veggie or chicken broth
Salt & freshly ground black pepper to taste
Cooking Directions
Assorted fresh veggies, cut into finger size pieces. Combine first 4 ingredients (edamame thru lemon juice) in food processor or blender & mix until smooth adding water or broth until desired consistency. Transfer hummus into a large bowl and add salt & pepper to taste.
Spoon hummus into serving bowl & place on platter. Surround hummus with fresh veggies.
Serving size: 2 tablespoons hummus & lots of veggies
Recipe courtesy Diane Henderiks.
Other Recipes That You Might Like