Diane Henderiks' Garden Veggie Burgers
Recipe Courtesy Diane Henderiks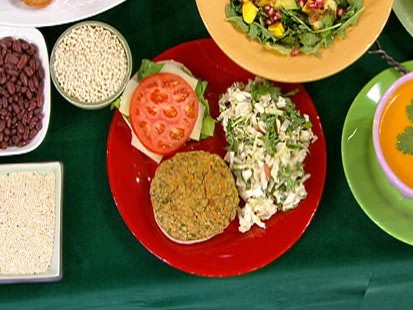 From the kitchen of Diane Henderiks
Ingredients
2 cups sliced almonds
1 cup white sesame seeds
2 cups chick peas
8 ounces tofu
1/4 cup low sodium soy sauce
1/2 cup parsley
1 cup baby spinach leaves
2 cup carrots, grated
1/2 cup melba toast, crumbled
1/4 teaspoon garlic powder
2 teaspoons kosher salt
1 teaspoon freshly ground black pepper
Cooking Directions
Puree almonds and sesame seeds in a food processor Place in large bowl.
Puree chick peas and tofu with soy sauce. Add to bowl with nuts and seeds.
Pulse parsley and spinach. Add to bowl.
Add carrots, Melba toast, garlic powder, salt and pepper to bowl.
Form into patties.
Bake at 350 degrees F on lightly oiled baking sheet for 25-30 minutes, turning once.
Recipe Summary
Main Ingredients: almonds, chick pea, tofu
Course: Dinner, Lunch, Main Course