Diane Henderiks' Seven Layer Dip Bites
Recipe Courtesy Diane Henderiks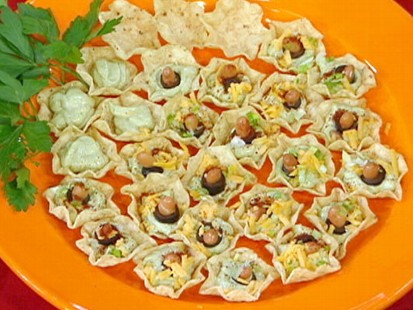 Portion controlled starter recipes for your holiday parties.
From the kitchen of Diane Henderiks
|
Ingredients
2 Hass avocados
1/4 cup low-fat sour cream
1/4 cup salsa
1/4 cup cooked pinto beans
1/4 cup black olives, sliced
1 green onion; finely chopped
1/4 cup shredded low-fat cheddar cheese
2 teaspoons chili powder
Tortilla chip cups or other cup-type chip or cracker
Salt and pepper to taste
Cooking Directions
Combine avocado, sour cream and salsa in food processor and puree until smooth. Season to taste with salt and pepper. Set aside.
Line serving platter with tortilla chip cups.
Pour avocado mixture into a zip top bag and cut small corner out of bottom of bag for piping.
Pipe mixture into tortilla chip cups.
Top each with 1 pinto bean, sprinkle of cheese, green onion, then chili powder.
Other Recipes That You Might Like