Diane Henderiks' Pepita Frozen Yogurt
A Healthy Frozen Treat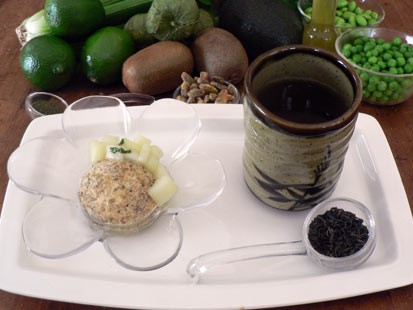 From the kitchen of Diane Henderiks
|
Diane Henderiks is on a mission to teach America how to eat well. She is a personal chef, registered dietitian, cookbook author and regular "Good Morning America" contributor. She manages two companies: Diane's Daily Dish, her personal chef service; and Diane M. Henderiks, R.D. & Associates LLC, her nutrition consulting firm. She travels the country sharing her expertise and engaging audiences at the nation's top food and wine festivals and women's events. Diane is renowned for her expertise in creating wholesome cuisine that is both delicious and nutritious. www.dishwithdiane.com
Ingredients
2C lowfat vanilla frozen yogurt
1/2 cup pepitas
1/2 teaspoon cinnamon
1/2 teaspoon ground ginger
1 teaspoon brown sugar
1/4 teaspoon ground green tea leaves or matcha powder
1/4 teaspoon dried mint leaves
1/4 cup honeydew melon juice
1 teaspoon honey
1 cup diced honeydew melon
1 tablespoon finely chopped fresh mint leaves
Cooking Directions
Scoop frozen yogurt into ½ cup balls and place in single layer in freezer. Place pepitas in food processor, coffee grinder or blender and pulverize to soft powder. Add next 5 ingredients (cinnamon through mint leaves) to pepitas and set aside.
In small saucepan, dissolve honey in melon juice over medium heat. Reduce heat to low, add melon and mint and cook about 2 minutes. Let cool slightly. Place nut mixture in small bowl. Roll frozen yogurt ball until lightly coated. Repeat with remaining frozen yogurt balls.
Place each ball in small bowl and top with 2T warm citrus compote and serve immediately.
Recipe courtesy Diane Henderiks.
Other Recipes That You Might Like